It's Summer time and that means only one things – Festival season is upon us! From flowery headbands to wading through the mud in wellies, from cleaning yourself down with baby wipes each morning to trying to pee in a bush because the queues are too long – there is nothing you can't look forward to!
As much as we pray for sun rays when we're spending the weekend on a field in tents, this is the UK we're talking about, so anything is possible and we can't always bet on the blue skies. This post will outline the best festival hacks for you to take with you this summer, just to make life that much easier – especially if the weather isn't on your side!
PACK A MAC
Probably the most important item to remember when you're at a UK festival. I'm not saying you have to try and stuff your biggest bubble jacket into a bag ( and I would hope that you haven't owned a bubble jacket since your pre-teen years) but packing a mac is essential. The high street have become so much more festival savvy throughout the years and now you can buy lightweight, thin macs that roll up easily into their own little bags. PERFECT. My favourites include:
(Left to right) £28 at Next, £36 Warehouse at ASOS, £10 at Boohoo
There are also considerably cheaper options at local stores such as George as Asda and F&F at Tesco! These macs will not only leave room in the bag for your new festival clothes, but they'll keep you dry whilst keeping you looking cool and on top of the trend.
Buy a Bum Bag!
Oh girls, these will be our saviour! They'll make it much easier for us to hold two drinks at the same time without having to worry about getting pick pocketed! Not to mention they're extremely retro – like every day wearing one is a Flashback Friday.
(Left to right) £5 SALE! New Look, £35 City Fellaz at ASOS (bit pricey) £20 at River Island
As you can see, they don't have to be the same as the originals, they can be chic and cool yet extremely practical!
Sensible Shoes!
As much as I love sandals and flimsy footwear with a cute summer dress, festival shoes need to be practical. However, that's not to say that you can't still look stylish. High top trainers and a pair of stone wash denim shorts can look extremely chic and your feet will stay dry, clean and bruise free from people standing all over you!
(Left to right) ALL £45 – Daddy Cool at ASOS, River Island (hidden wedge), Topshop
So, there you have it. Festival hacks for summer 2014, whether it be for V Festival, Leeds Festival or Wireless amongst many others, these hacks are nationwide! If you enjoyed this post, leave a comment! I'd appreciate any feedback and suggestions about what else you'd like to read about. I'm sure I could provide!
Natasha Calder – Twitter
Outdoor culture comes to Waddesdon Manor for late summer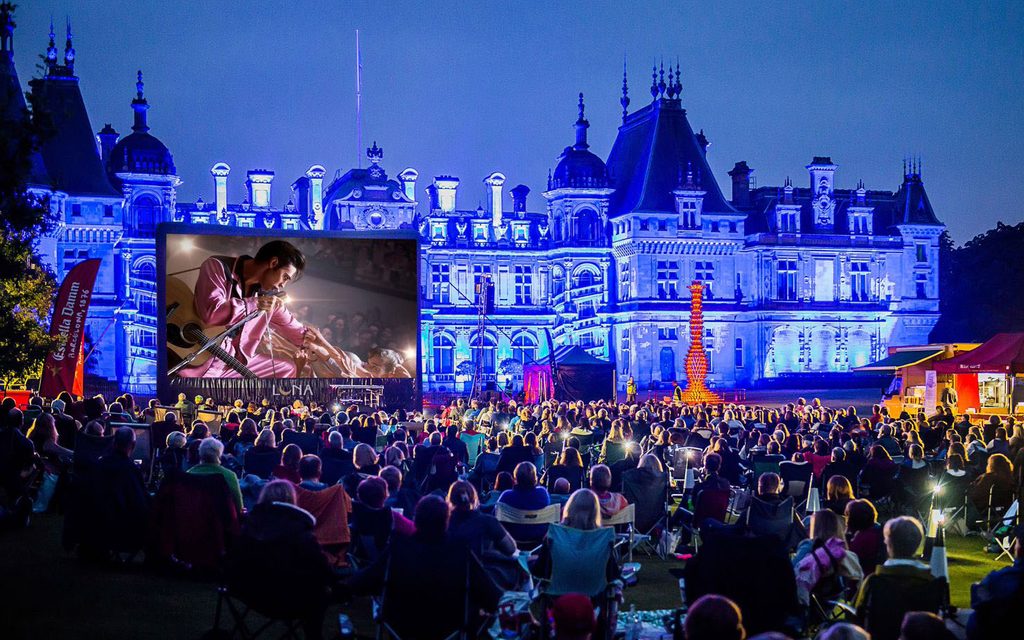 This summer, open-air cinema screenings, picnic theatre and a food festival will come to Waddesdon Manor for some fantastic seasonal culture in the outdoors.
The Luna Cinema will pitch up in the grounds and screen four blockbuster films, with the 19th-century chateau serving as a picturesque backdrop. After arriving via a path lit with festoon lighting, visitors can enjoy the full service of the on-site Luna bar for refreshments and food.
Champagne may be the apt choice on the first night with Baz Luhrman's spectacular take on The Great Gatsby (Wed 13 Sept) starring Leonardo Di Caprio. While the director's latest, the Oscar-nominated biopic Elvis (Thurs 14 Sept), follows on the following day to fill the garden setting with Presley's signature rock and roll. Then a modern classic, as Harry Potter and the Philosopher's Stone (Fri 15 Sept), the film that kicked off one of the biggest film series of all time, will make Friday evening a nostalgic start to the weekend. The final screening will be the smash-hit of last year Top Gun: Maverick (Sat 16 Sept), starring Tom Cruise and widely cited as a saviour of big-screen cinema.
At the end of August, visitors will be transported back to Elizabethan times with the open-air production of Romeo and Juliet (Thurs 24 Aug) by the internationally-acclaimed The Lord Chamberlain's Men, the UK's premier all-male company. It will be a unique opportunity to watch the traditional performance in the atmospheric grounds of one the UK's most beautiful settings. Alongside Elizabethan dress, music and dances, and with the all-male cast, guests can watch the tragedy in a similar manner to how Shakespeare's original tale would've been viewed by the public, except with the extra comfort of enjoying your own picnic in the garden.
If you cannot wait for the second half of summer to see some Shakespeare, then the Unbound Theatre company will have you covered with their free picnic performance of the comedy Much Ado About Nothing (Sun 23 July)at 2pm. They will also return for another free performance of their original play Gertrude & Dorothy (Sun 20 Aug), a crime caper throwing together the noted horticulturalist and garden designer Gertrude Jekyll, and Britain's first racing driver Dorothy Levitt, for three separate showings throughout the day.
Adding to the summer heat will be Chilli Fest (Fri 1 – Sun 3 Sept) a weekend festival featuring handpicked exhibitors, all passionate about chilli, bringing the best of local artisan condiments, sauces, and chutneys to the Manor grounds. Around 70 stalls will offer up the taste of some of the most delicious chilli-food from the UK, so you can pitch up with a picnic in the sunny grounds to enjoy for the day, and then choose your favourite condiments to take home. There will also be a range of bars and distilleries, offering everything from local vineyards to flavoursome cocktails, making the perfect refreshments after a walk in the gardens. Along with live music and activities for young ones, and with a special late-night opening on Saturday, Chilli Fest is the perfect way to enjoy the last of the summer sunshine.
Of course, if you want to escape the sun for a while, Waddesdon Manor's impressive permanent collection will be available inside. For first-time visitors or regular guests, there's plenty to see and enjoy, including the newly restored Musical elephant automaton, the rare Sèvres pot-pourri vase, and works by Guardi, Reynolds, Gainsborough and Watteau.
Alongside the entire summer programme, which includes more theatre shows suitable for the whole family, Waddesdon Manor is set to be the perfect late summer outing for friend meetups, evening drinks, and relaxed afternoon picnics, enjoying the most exciting culture of cinema, theatre and food in a glorious summer setting.
There are limited places available for the events mentioned above, please visit the Waddesdon Manor summer holidays webpage to book and not miss out.
Wicksteed Park's Garden Wheel Shortlisted for Best new Ride Award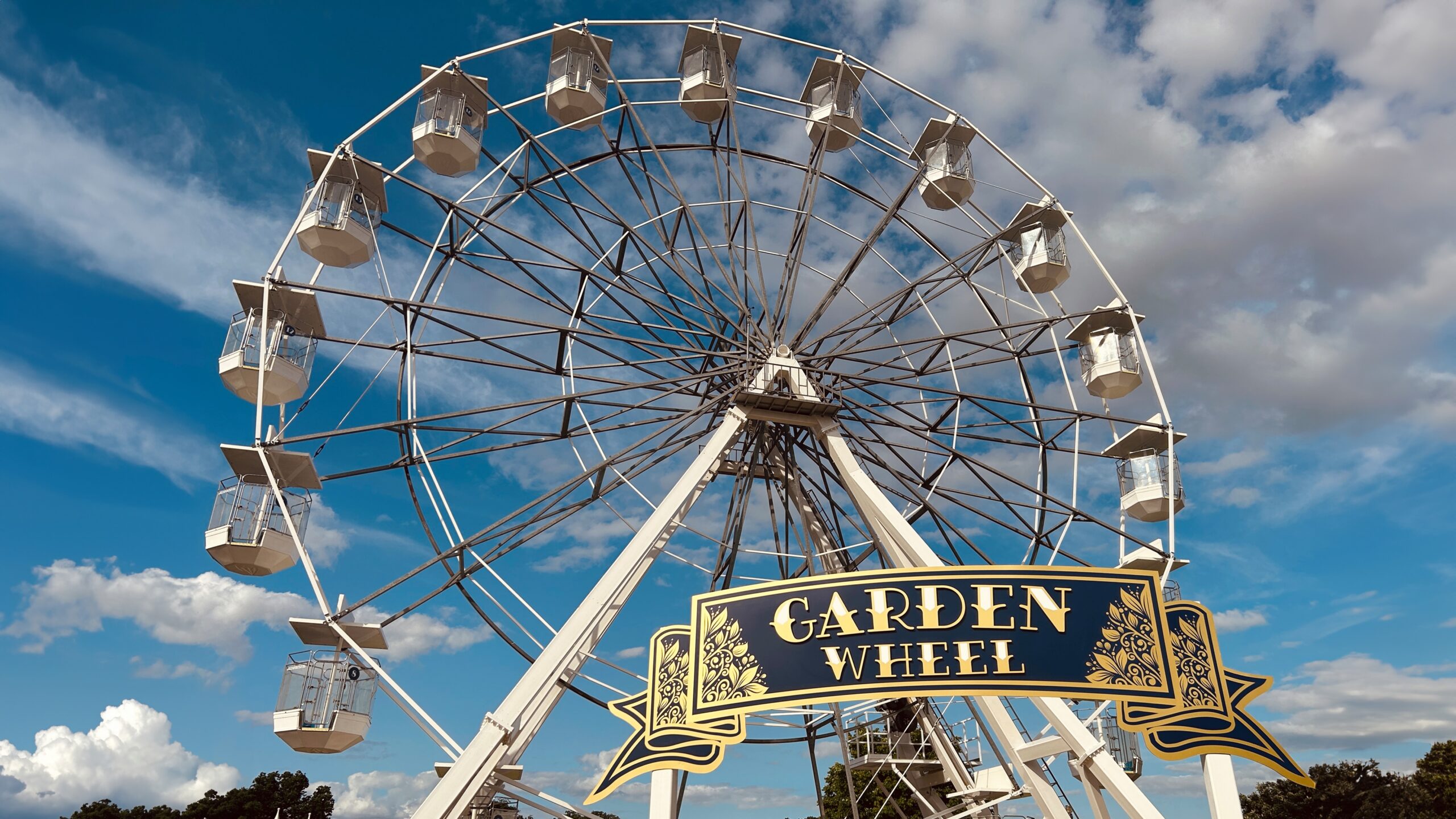 Wicksteed Park's Garden Wheel has been shortlisted for the Best New Ride at the UK Theme Park Awards.
The Northamptonshire attraction's historic Water Chute was also nominated for the Best Water Ride and the Park received a third nomination as the Best Theme Park with Animals.
Now in its fourth year, the awards give the British public the chance to vote for their favourite theme parks in national awards recognising the best new rides and attractions, shows and events. Voting will open on 22nd July at ukthemeparkawards.com.
The awards are organised by ThemeParks-UK.com, an independent consumer guide to UK theme parks. In 2023, the awards are being presented in association with AttractionTickets.com.
"We're delighted to have been nominated in three different categories and it's obviously particularly exciting to be shortlisted with the Garden Wheel for the best new ride," said Wicksteed Park's Carly Redington.
"We are up against some stiff competition with the likes of Legoland Windsor and Thorpe Park but it's great to get recognition for our ongoing investment programme in the park alongside one of our heritage rides," she added.
Opened in May, the 25-metre-tall Garden Wheel features 18 gondolas and provides stunning views out across the Kettering attraction and the surrounding countryside. The Ferris wheel, which can accommodate up to 72 passengers, is situated at the top end of the park and is included in the price of a wristband.
Alongside Wicksteed Park other major contenders for the awards include Alton Towers and Drayton Manor in Staffordshire, Blackpool Pleasure Beach in Lancashire, Thorpe Park and Chessington World of Adventures in Surrey, LEGOLAND Windsor in Berkshire and Paultons Park in Hampshire.
There are 22 categories this year, including Theme Park of the Year, Best New Attraction, Best Customer Service and Best Value. New categories include Best Reimagined Attraction, Best Theme Park with Animals and Best Themed Coaster.
In advance of the public vote, a shortlist has been compiled using public nominations and with the help of a panel of expert judges including Paul Kelly (Chief Executive of the British Association of Leisure Parks, Piers and Attractions) and Andy Hine MBE (Chairman – Roller Coaster Club of Great Britain).
More than 25,000 nominations were received, with a total of 35 theme parks nominated for awards in 2023.
The Garden Wheel is part of an ongoing programme of investment in the Park which has included the launch of the new Galaxy Invaders ride, Meerkat Manor, Wicky Bear's Theatre and Wicky's Farmyard over the past two years.
Wicksteed Park provides a great value day out for all the family. Entry to the park is free. Ride and attraction tickets can either be purchased individually at £3 per person or alternatively day wristbands are available at £22 for unlimited access to all rides and attractions (with the exception of Wicky's Play Factory).
Milton Keynes welcomes first al fresco rooftop venue Unity Sky Lounge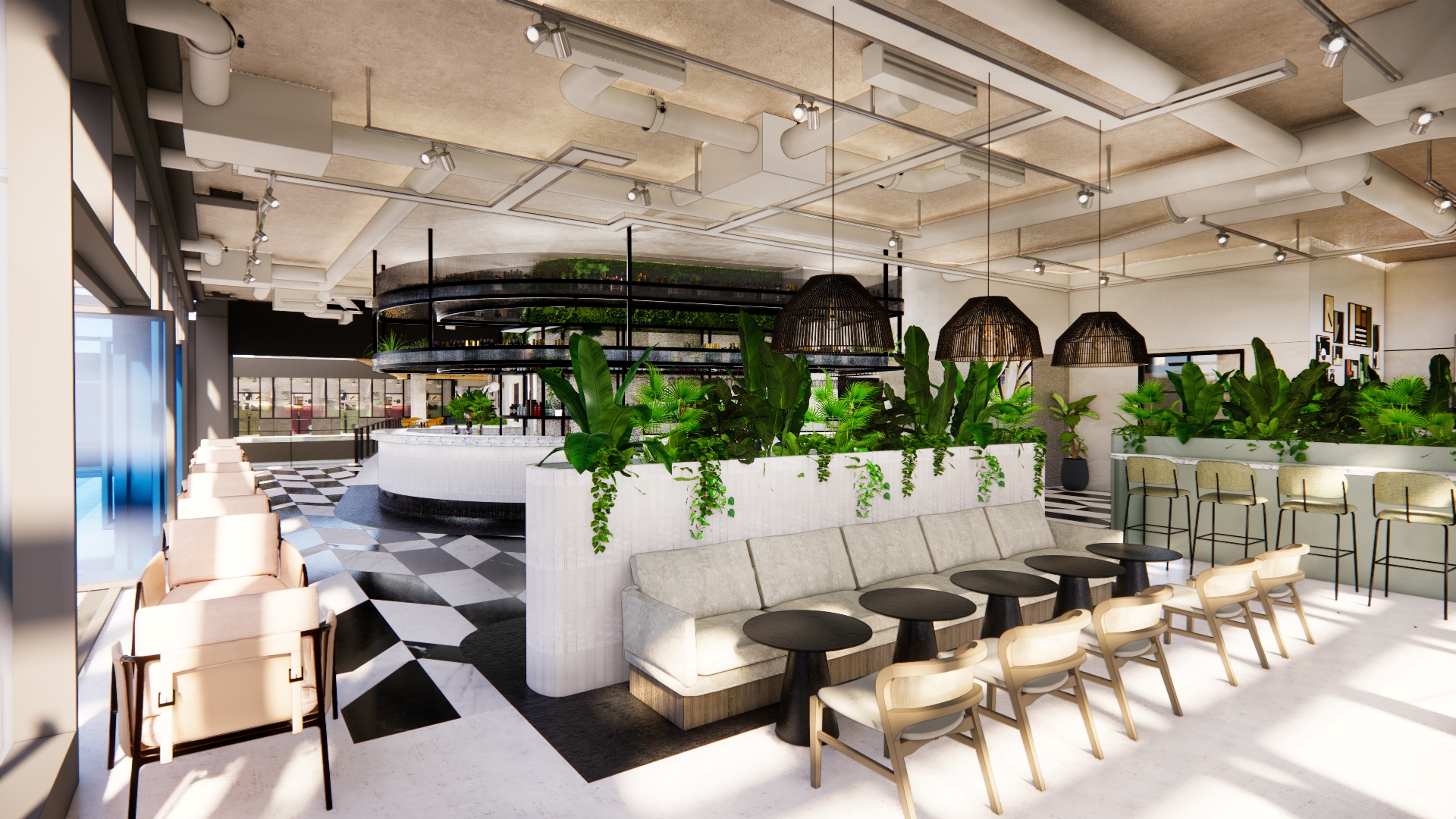 September 2023 will see the eagerly awaited opening of Unity Place – a multi-purpose destination in Milton Keynes bringing together community, business and leisure, championing social connectedness and environmental consciousness.
The new vibrant visitor attraction will be home to Unity Sky Lounge, an expansive rooftop bar and restaurant. Boasting an al fresco terrace nestled amongst the greenery and beautiful views of the city, the menu will feature the finest dishes and a selection of signature drinks, including seasonal cocktails and English wine.
Unity Sky Lounge is a sophisticated evening venue with a menu of small plates designed for sharing, allowing diners to enjoy the fun yet relaxed ambience, making it the perfect place to catch up and unwind with friends, or celebrate late into the night for a special occasion.
Drawing inspiration from British flavours, the menu showcases expertly crafted plates using only the finest ingredients, providing a dining experience that is in equal parts adventurous and comforting. With an array of vegetarian, meat and fish dishes, highlights from the menu include Devon hand-picked crab salad with apple and cucumber; Isle of Wight tomatoes with olive oil, sourdough and salt; Braised Berkshire pork with tomatoes, red wine and honey and Cured duck ham with asparagus and rapeseed emulsion.
For those with a sweet tooth, Unity Sky Lounge will offer a selection of mouth-watering desserts including Lemon posset with vanilla shortbread; Torched peach with mango and tarragon and Chocolate fondant with vanilla ice cream, roasted white chocolate and honeycomb.
Turning to the cocktails, guests can indulge in the classics, all reimagined with a modern twist, or, try something new with signature creations unique to Unity Sky Lounge. From 'Sky High,' made with Pinkster gin, Cointreau grenadine, egg white waste from kitchen and lime juice to 'Thyme For Gin,' with local gin, lemon and thyme syrup from the kitchen waste, lemon juice and soda – the whole menu prides itself on lowering waste without compromising on flavour.
The non-alcoholic cocktails are not to be missed with a host of options from zesty citrus blends to botanical infusions such as 'Cloudy Sky' with Seedlip Grove 42, orange juice, grenadine, egg white waste from kitchen and lime juice, and 'Country Garden Spritz' with Seedlip Garden, pea syrup made from kitchen waste and Mediterranean tonic.
The addition of Unity Sky Lounge to Milton Keynes' upcoming vibrant social scene promises to be the city's most sought-after destination for discerning locals and visitors alike.