Bedford Mayor announces Town centre boost ahead of re-opening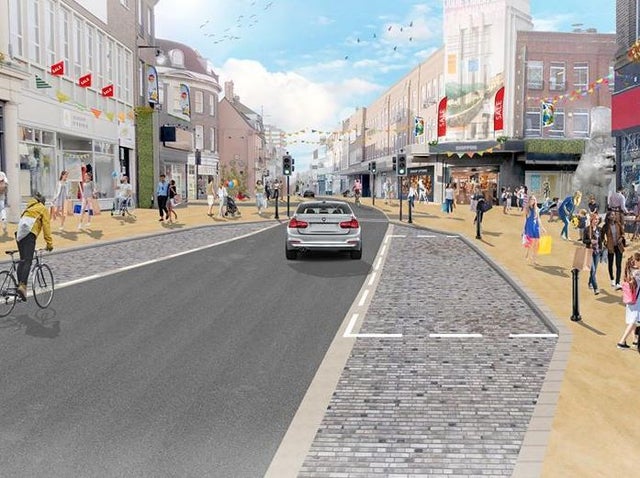 Bedford Mayor Dave Hodgson has announced a boost for businesses in the town centre which will see changes to encourage pedestrians and cyclists.
Traffic on the High Street will be reduced to one lane with average speed cameras to reinforce the 20mph speed limit. The scheme will help pedestrians to visit High Street shops whilst socially distancing, particularly around people who may be queueing for shops.
This work was already planned via the Transporting Bedford project this summer and, while permanent works have had to be put on hold due to the outbreak, these changes will deliver wider pavements and a more pleasant shopping experience, supporting our town centre at this difficult time. Space will be kept available for deliveries to be made to shops.
The announcement brings forward the longer-term plans for the High Street by installing semi-permanent bollards to demarcate the walking areas. The Council has been awarded £121,000 by from the Government emergency active travel fund to help with the cost of the works.
The High Street works will form part of a wider provision for pedestrians and cyclists which will also see the addition of new cycle lanes and markings on four roads: River Street, Greyfriars, Bromham Road and the Embankment.
Mayor Dave Hodgson said "We have been working to find ways to make it easier for people to visit our town centre businesses, and to be able to walk and cycle to where they need to go. These improvements will help people to feel safe and welcome when they visit our town centre for their essentials, and the schemes for cyclists will hopefully give more people the confidence to try commuting by bike."
Cllr Henry Vann, Portfolio Holder for Town Centres said "We are working to support town centre businesses, to remind people to stay safe, and to ensure that people feel safe when visiting essential stores in line with Government guidelines and abiding by social distancing not just for their own safety but for the safety of others. Creating this additional space for pedestrians by widening the pavements on the High Street will help people feel safer visiting essential shops in the town, and make it easier for businesses to keep operating at what is a very difficult time."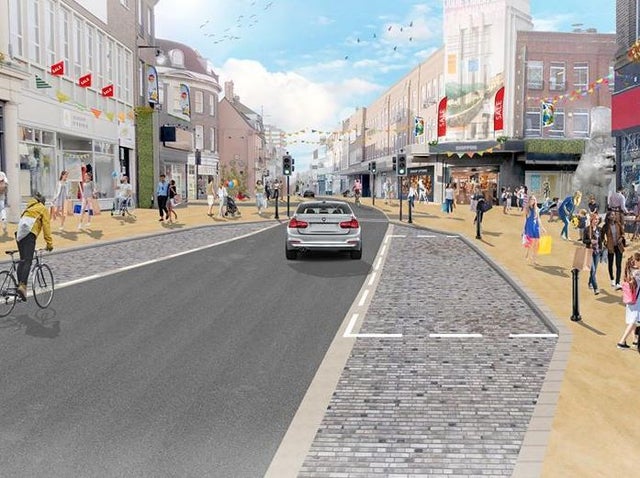 The High Street works are expected to start during week commencing Monday 22 June, with the works on the new cycle lanes expected to take place later in the summer.
Mercedes-AMG Petronas Formula 1 car opens Silverstone's Festive Experience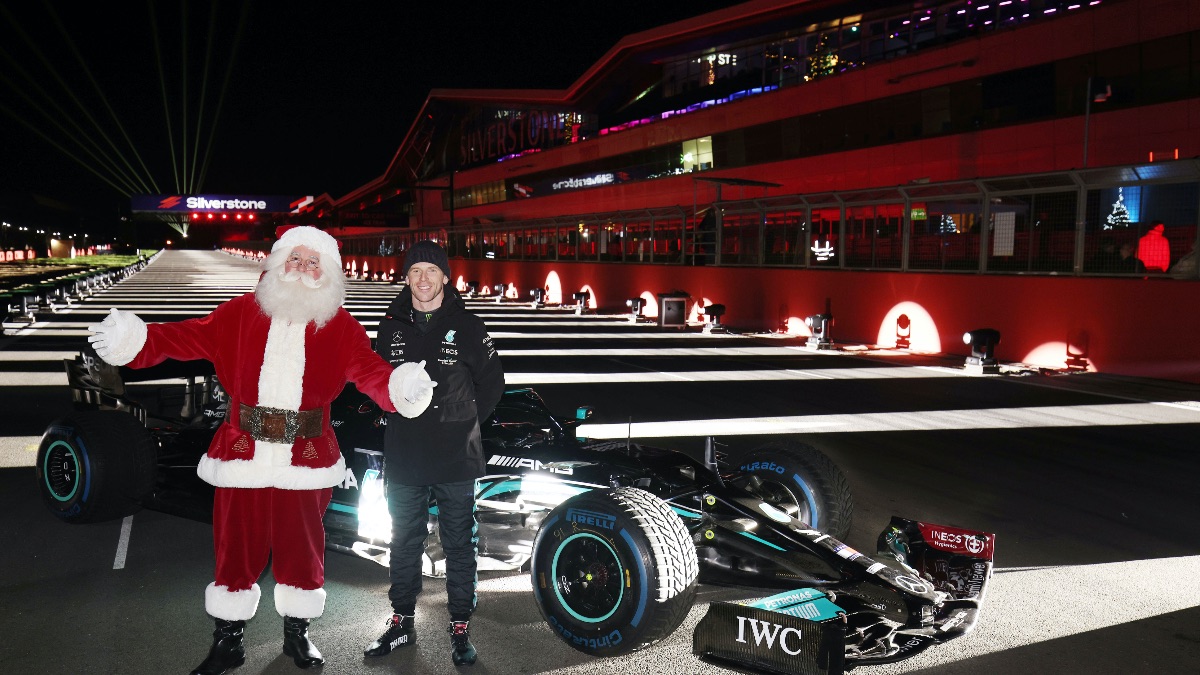 Silverstone's Lap of Lights Christmas experience was officially opened this evening by the World Championship winning Mercedes-AMG Petronas W10 Formula 1 car driven by Anthony Davidson.   The Mercedes-AMG Petronas team embraced the Christmas spirit and decorated the car in festive lights which caused quite a spectacle for those fans who were lucky enough to be at the preview event and included NHS and Emergency Service employees and their families as well as staff from Silverstone.
On completion of the opening laps Anthony was delighted to meet Santa who, having given a cheery wave to the passing 2019 Formula 1 World Championship-winning Mercedes,  took a short break from his busy schedule to get a closer peek at the F1 car as it came to a  halt on Hamilton Straight.
In addition to the spectacle of the opening laps, visitors got to experience the Lap of Lights  Ice Trak and Lodge which were open to all and bursting with festive atmosphere.  Ice Trak is the first ever skating rink to feature at the world famous motor racing circuit and many took to the ice to enjoy the novelty of skating around the Formula 1 pit lane and garages.    The Lodge was buzzing with the sound of families enjoying activities such as axe throwing, curling and musical entertainment and the children's cinema and Santa letter corner were particularly popular.
Speaking to Sky F1 David Croft as he got out of the car Anthony Davidson said "That was really exhilarating in the dark following the lights around the circuit although it was a bit scary at times!  The team has really enjoyed getting into the Christmas spirit and putting on this very sparkling show for everyone who has joined us here this evening!"
Silverstone Managing Director, Stuart Pringle, commented "Anthony and Mercedes-AMG Petronas have put on a great show for us tonight and I could not think of a more fitting way to open Lap of Lights.    I have had to reassure Father Christmas that the rest of our nights will be run at a more subdued pace as I think he got a bit of a shock this evening when he saw the stunning W10 approach his grotto at speed!  After 11 months of planning it is great to see so many families here having fun and I look forward to welcoming many more over the festive period."
Lap of Lights ticket prices start at £30 per car including all occupants. Ice Trak is from £8 for adults, £6 per child. Entry to the Lodge is free with a Lap of Lights ticket.  The event opens on 26 November and runs through to 3 January (closed on 29, 30 November and 25 December).  Full details and booking at www.silverstone.co.uk
Petrolheadonism Live pulls in to Knebworth House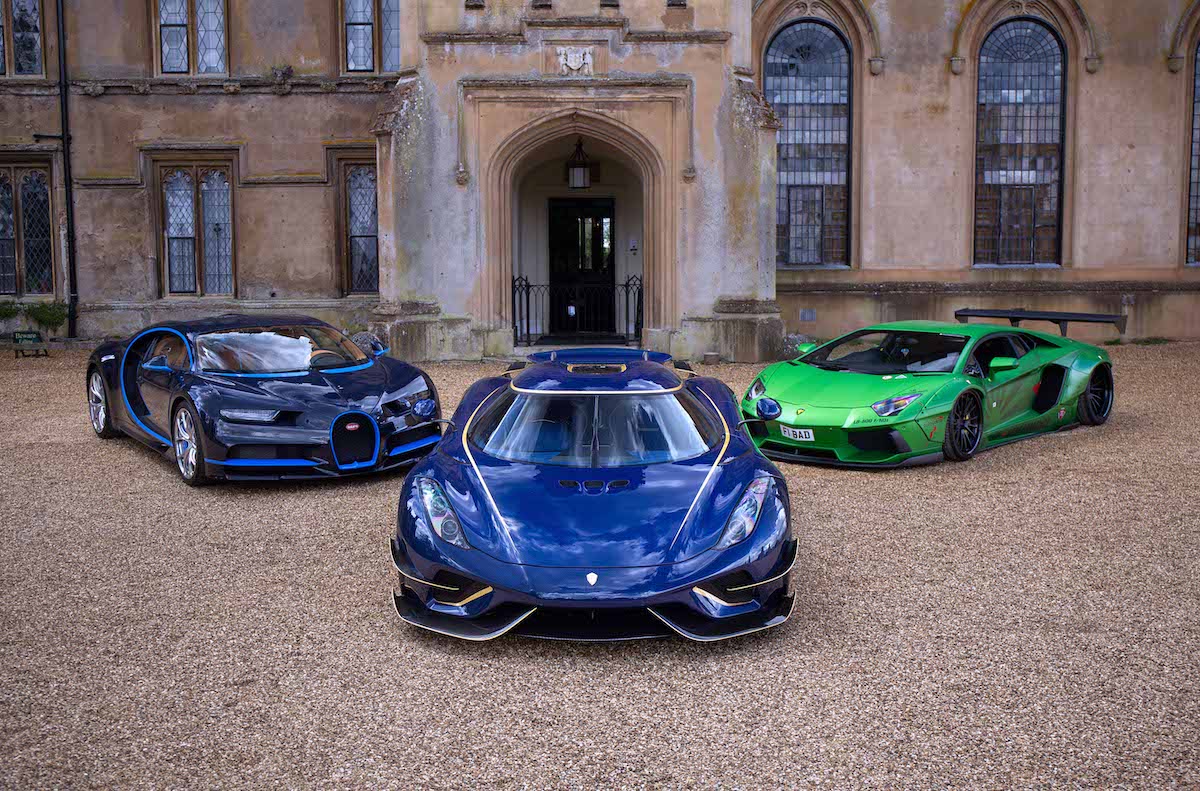 Petrolheadonism Live is the brand new, ultimate celebration of all things automotive. The huge two-day family event, set in the beautiful grounds of Knebworth House in Stevenage on Saturday 18th and Sunday 19th September 2021, will welcome up to 10,000 people per day and bring over 1,000 cars together, including Supercars, Classics, Americana, Highly Modified and much more. Guests will be awestruck at the Hypercar Enclosure with the once-in-a-lifetime opportunity to see a stunning selection of exclusive, cutting-edge cars worth over £50 million.
What's happening at Petrolheadonism Live?
With special guests including Guest of Honour, Richard Rawlings (owner of Gas Monkey Garage and star of Discovery's Fast 'n' Loud TV show) flying in from the USA for his first ever UK automotive event, the Lewis Hamilton Petronas Formula One Simulator, the Superbike enclosure, free entry to Knebworth's adventure playground, and a host of other entertainment, this is an unmissable weekend for petrol heads and their families.
Petrolheadonism Live has well over 50 car clubs already confirmed to attend. Enthusiasts will be able to engage with car owners to learn more about the incredible array of classics and modern classics on show. Then the Hypercar Enclosure awaits, featuring cars such as the Koenegsigg Regera worth £3.5m, the Mercedes 300SL Gullwing worth £4m, and the Ferrari F50 worth £1.65m to name but a few. Totalling over a staggering £50m of unforgettable, breath-taking cars, the Hypercar Enclosure presented by Zach's Garage is a true highlight of the Petrolheadonism Live weekend.
The Main Arena will provide entertainment throughout the event and hosts the 'Petrolheadonism Elite 2021' competition. Richard Rawlings will be on stage each day and will also judge the competition as seven incredible cars from seven different classes parade across the catwalk each day giving guests the chance to check out these elite cars up close.
Petrolheadonism Live: Guest of Honour Richard Rawlings
Richard Rawlings will be speaking on the Live Stage and making special guest appearances throughout the day, together with his much-loved sidekick, Big Chris. In 2002 Richard Rawlings opened Gas Monkey Garage creating automobiles for customers worldwide. The enterprise became the subject of Discovery Channel's 'Fast 'n' Loud' series from 2012 – 2020 turning Rawlings into one of the global automotive scene's biggest and most influential characters.
He now co-hosts Garage Rehab on Discovery and the Gas Monkey Garage brand extends across a variety of products and genres, even an energy drink. There's no bigger name out there for petrolheads and his first ever UK car show is a special moment, not to be missed.
For those who have ever watched Lewis Hamilton race and declared 'I could do that', the Lewis Hamilton Petronas Formula One Simulator will be at the event. Guests can experience the same training regime as Lewis Hamilton himself and taste the thrilling speeds of Formula One.
The wonderful charity Sporting Bears will also be at Petrolheadonism Live, providing Dream Rides in some amazing cars to raise money for wishes that will be granted by Rays of Sunshine Children's Charity – every penny of every dream ride will add to the £2.5million the Sporting Bears have already raised to date.
There are few better locations than Knebworth House for Petrolheadonism Live. The event will take place right next to the Grade II listed, Tudor Gothic style country house, spreading out to its 250 acre deer park. Knebworth House has hosted huge concerts from the likes of The Rolling Stones, Oasis, and Elton John, and now prepares to welcome the UK's most fanatical petrol heads and some of the world's most spectacular and desirable cars.
For those guests bringing kids, the ticket includes on-site parking but also free entrance to the Knebworth adventure playground where kids can enjoy a zip wire, dinosaur trail with 70 life-sized dinosaurs, a maze, water features and much more. When it's time to recharge the batteries there are plenty of street food and drinks traders on site (and a licensed bar for mum and dad).
Petrolheadonism Live tickets
Tickets for the two-day event cost just £39.50 + b/f (kids £15 + b/f) or £25 + b/f for one day (kids £11.50 + b/f). Available from Event Brite: https://www.eventbrite.co.uk/e/general-admission-spectator-tickets-petrolheadonism-live-tickets-157878804755
Micromobility firm Spin launches e-scooter trial in Milton Keynes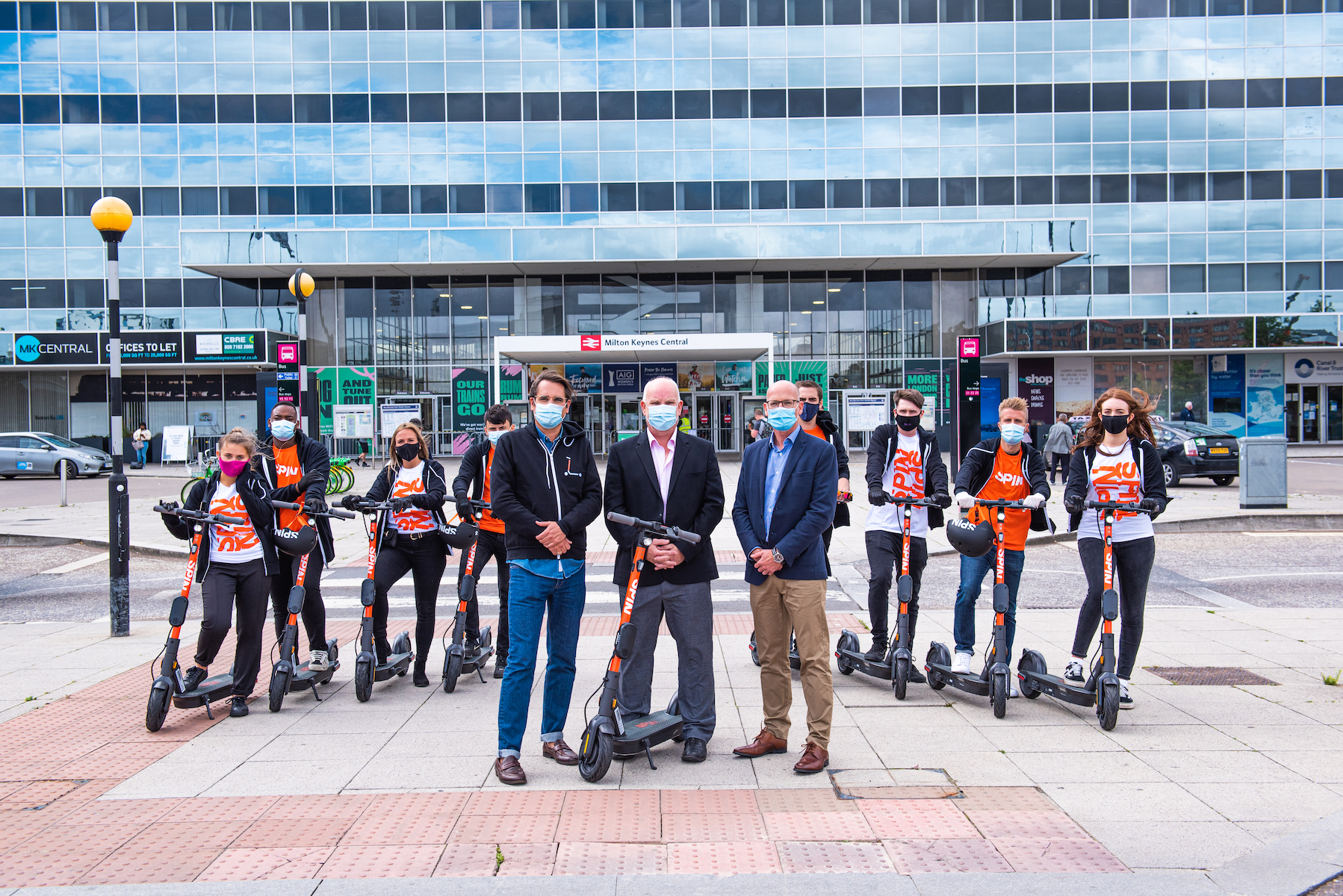 Spin, the micromobility unit of Ford Motor Company, announced its e-scooters are now available for public hire in Milton Keynes. This marks the company's first market in the context of the recently legalised e-scooter trials taking place across the United Kingdom.
Local residents to Milton Keynes may have already started to notice the distinct e-scooters parked in various locations. On Saturday, Spin began ramping up its scooter operations by placing 100 scooters on the streets for residents to begin using. Over the coming weeks and months, Spin plan to steadily increase the number of scooters to 300.
How do I use a Spin e-scooter?
Using one of the Spin e-scooters in Milton Keynes is pretty simple. It is worth noting from the start that these e-scooters are for anyone 18 years old and above. To start your first trip, you will need to download the Spin App on your smartphone, review their comprehensive set of rules and safety guidelines. It is extremely important that you follow the safety guidelines. If you have not used a e-scooter before or consider yourself a novice, we recommend you visit Spin Safe Digital.
Spin Safe Digital is an online learning resource that will teach you how to start and end trips properly and parking techniques to ensure walkways are free of scooter clutter. You can receive a £5 discount if you take an online quiz so it is well worth taking a few minutes to do the quiz.
How much does the Spin e-scooter cost?
The e-scooter costs £0.25 per minute. There are no setup costs or unlock fees during the trial.
Where can I ride the Spin e-Scooter in Milton Keynes
The scooters can be used on the town's redways, which provide the local community with convenient connectivity across the town.
Milton Keynes has over 200 miles of shared-use paths, known as Redways, for cycling and walking. The traffic-free network covers most of the city estates with some Redways extending out to connect to the older towns. The redways are an important part of Milton Keynes. They are shared-use routes for people on foot or on cycles. The traffic-free network is popular for leisure, for commuting and for staying active. Redways may be used by anyone cycling and walking including people with pushchairs or prams and those in wheelchairs (including powered wheelchairs / mobility scooters). RESPECT OTHERS ON REDWAYS.
How much does the Spin e-scooter cost?
The e-scooter costs £0.25 per minute. There are no setup costs or unlock fees during the trial.
Spin is working closely with Milton Keynes Council to roll out its fleet responsibly, with public safety being the top priority. Over the weekend, the company held a series of public education events for Milton Keynes residents to come out and learn more about how to ride safely. Spin plans to hold several additional safety and public engagement events in the next several weeks to raise awareness and ensure full compliance with local and national rules.
Felix Petersen, Head of Europe at Spin, said "We're excited to bring the first of our UK e-scooter fleets to Milton Keynes and had a highly-encouraging response from local riders at our Spin Safe events. This is the first of many e-scooters trials across the UK as part of our firm commitment to fully integrate e-scooters into local transportation ecosystems. We hope to responsibly fulfill the need UK residents have for this new transport mode as an accessible, inexpensive and greener alternative to cars and public transport."
John Lippe, Director of City Engagement at Ford Mobility commented, "Communities around the world are adjusting to this new environment where open-air, sustainable micromobility solutions are not just wanted, but needed for safe travel. We're ready to bring two wheels to residents throughout the UK with Spin."