Four bold new trends leading mens wedding fashion choices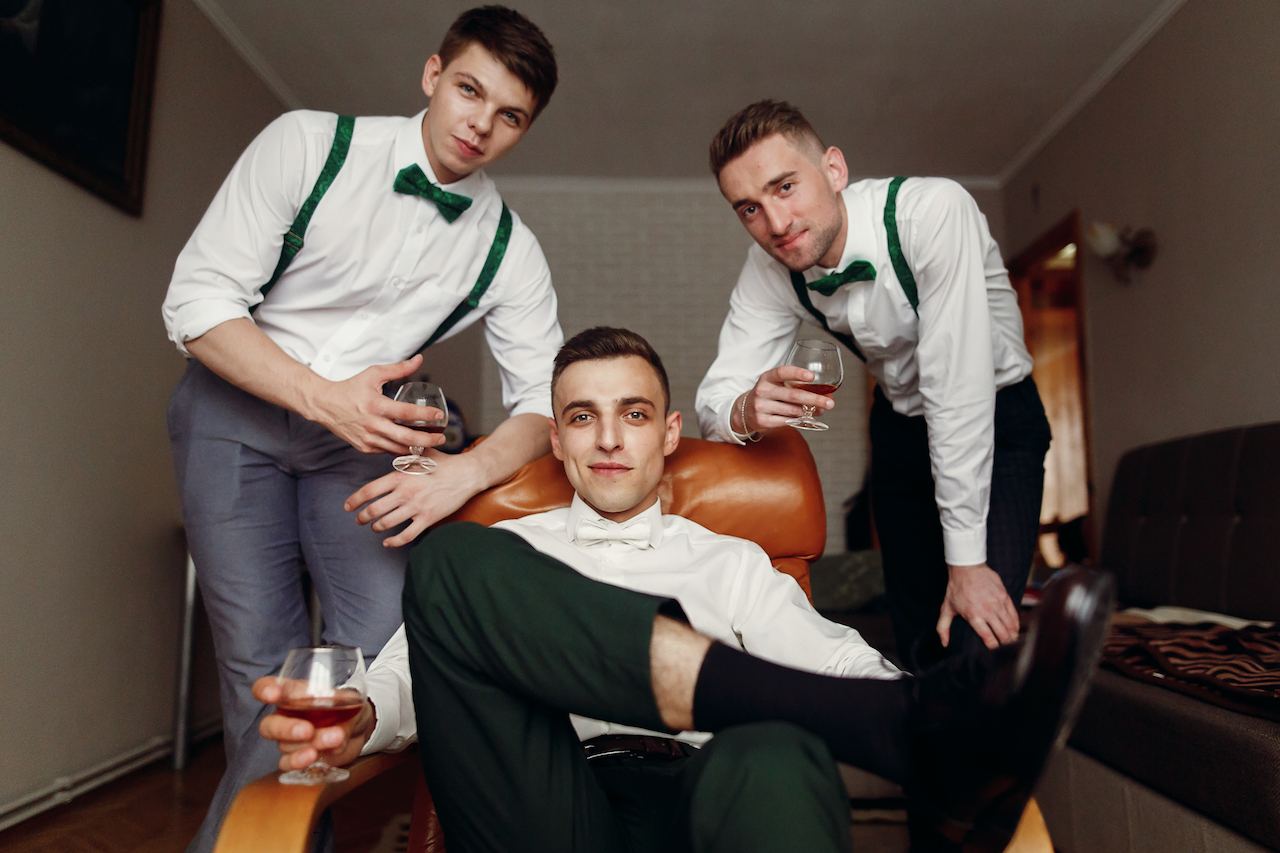 As a groom, it might be daunting to know where to start when it comes to choosing your wedding suit. There are some classic choices you can go for. For years, grey, blue, or black suits have been the favourite for grooms across the nation, matched with timeless brown or black shoes. There are options to personalise this suit too, with bold ties or even socks giving you an opportunity to express your personal flair in a subtle way.
But your wedding style shouldn't be restricted by tradition. Menswear clothing retailer Charles Tyrwhitt have looked into current trends in men's wedding fashion and helped create these tips on bringing these trends to your own wedding.
The roaring '20s and the 2020s
Formal suits have been around for decades. However, fashionable suits from a century ago were worn very differently from the suits that have seen popularity in recent years.
Having said that, with the global success of Peaky Blinders, '20s fashion is back in style. If you happen to be a fan of the series, why not take inspiration for your wedding suit? The cast is dressed to the nines throughout, and there are some easy ways to replicate their iconic look.
First off, choose a tweed suit in Herringbone or Donegal for a more rustic style. To complete the '20s look, you're going to need to make use of accessories. Naturally, the Peaky Blinders were defined by their much-mythologised peaked cap, so adorning yourself in one of these will give you that instantly recognisable silhouette that you're looking for. Top this all off with a statement gold pocket watch to complete the look of a well-dressed working gent.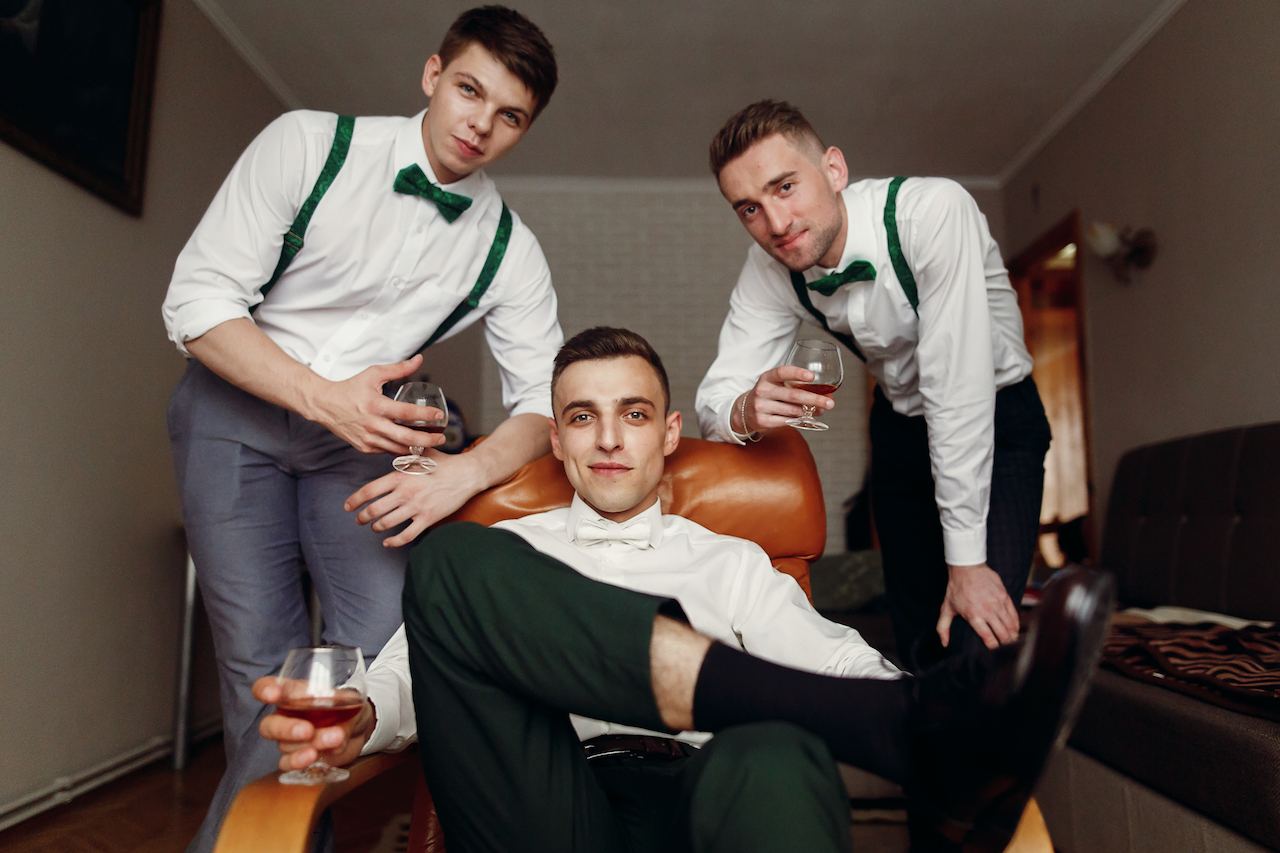 Be creative with colour
While some of us will want to appeal to tradition, others will prefer to break away from those styles that came before. For these intrepid pioneers of fashion, experimenting with colour is a fantastic way to express their style know-how.
It can be tempting to play it safe with blues and greys, but your wedding day is the best time to make a statement. Now, you can opt for colours that will turn heads without sacrificing any of the class appropriate for the special occasion. In this sense, a deep red suit, in burgundy or wine, is a unique option that oozes sophisticated style. It's a choice that will serve you well throughout the wedding day, being the perfect choice for both the ceremony and the late-night dancing.
Depending on when your wedding takes place, matching your suit colour with the season can be a great way to tie your whole day together. Unsurprisingly, an ONS survey from 2018 showed that summer was the most popular season for weddings. To pair with this season, you should go bright with light and natural colours. If you're having a winter wedding, dark colours are the most fitting, so try a pine green or earthy brown.
Marriage in microprint
Colour and material are overarching points to consider when choosing your wedding suit. You'll likely already have an idea of what you're looking for in these places. However, the smaller aspects of men's suits are just as important as the main pieces.
When you're looking to add detail to your suit, many people will turn to accessories first. Pocket squares, ties, socks, and jewellery can be great additions, but a microprint suit can really serve to bind your look together. While forsaking the standard block-colour look, microprint items ensure that, no matter how close they get, people will always see more detail in your outfit.
There is plenty of variety in the patterns that you can choose too, so you can be specific about going for a pattern that really suits you. If you're looking for ways to diversify your outfits too, you could use a microprint jacket with matching coloured trousers and waistcoat. You could even go for a microprint shirt to give a more subtle splash of variety to your look.
A statement waistcoat
There are many bold trends hitting men's fashion that can make it overwhelming to settle on one style. Being restricted by tradition can be difficult, but being faced with too much choice can be just as challenging. Sometimes, a middle ground provides the best solution.
If you're fond of a traditional suit but would like to embrace a modern twist, picking a statement waistcoat for your look could be the perfect answer. You can incorporate this as a complementary colour or pattern to match the rest of your look, but you can be as daring as you choose.
Pairing a tartan-patterned waistcoat in blue and green could be an understated flair of colour to really elevate your outfit. On the other hand, a striking mustard waistcoat against a dark blue suit will make sure that you're the centre of attention throughout the day. Better yet, once it's time to doff the jacket and hit the dancefloor, you'll be impossible not to notice.
These are a few ways that you can stay on-trend with the latest wedding looks and make sure that you're dressed in style for the big day. Weddings are a momentous occasion, whether you're the lucky groom or an honoured guest, so it's important that you look your best.
About Charles Tyrwhitt
Wherever you're working, weekending or getting wed, Charles Tyrwhitt have got the togs for you.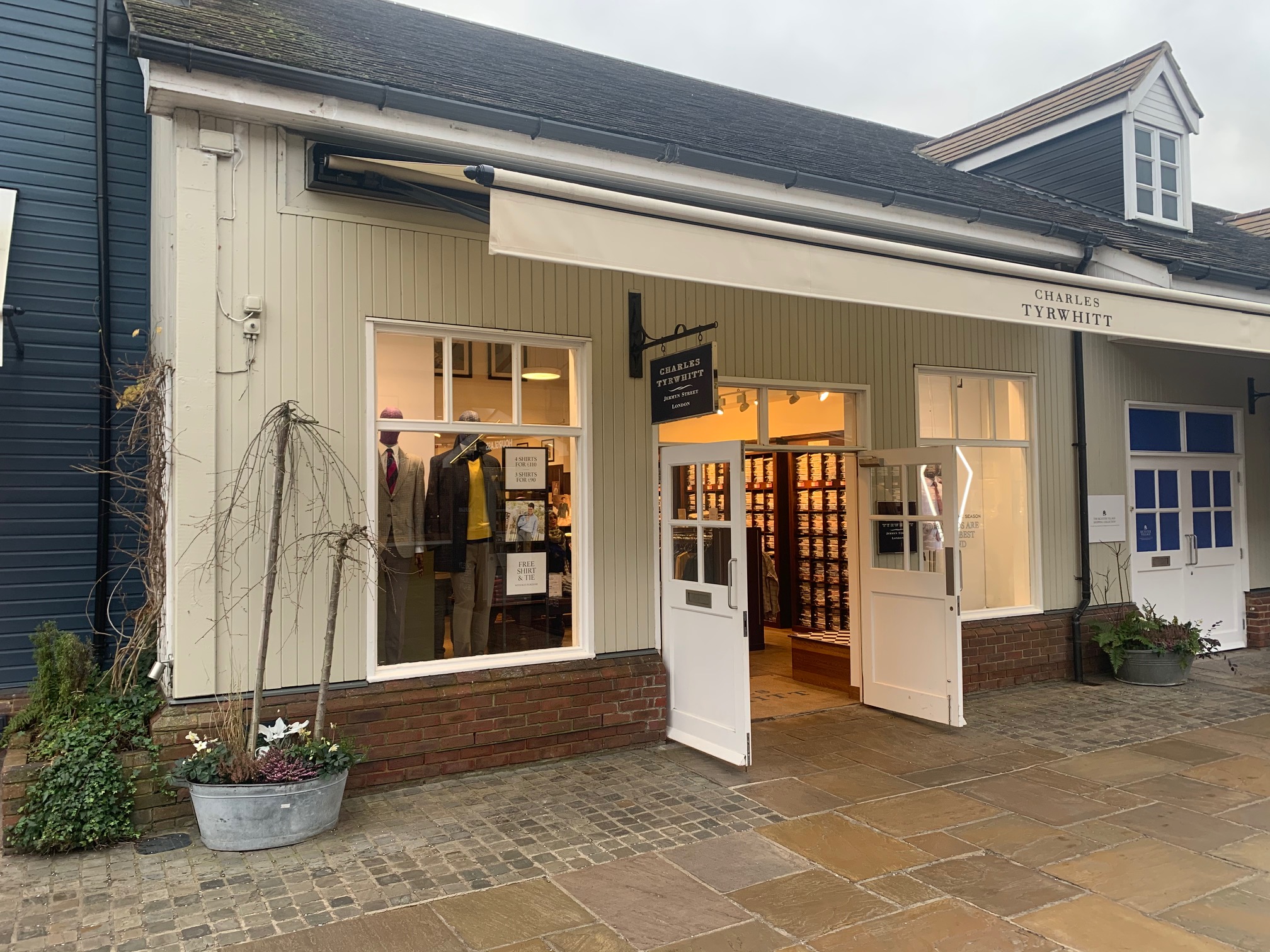 Charles Tyrwhitt Bicester Village
Charles Tyrwhitt is a part of Bicester Village is situated in Bicester, England. Open 7 days a week, the store is one of two Charles Tyrwhitt stores located in the Three Counties of Beds, Bucks & Herts.
Charles Tyrwhitt Bicester Village
50 Pingle Drive
Bicester
England OX26 6WD
United Kingdom
Charles Tyrwhitt Marlow
Charles Tyrwhitt Marlow is located on Marlow High Street. Open 7 days a week, the store is one of two Charles Tyrwhitt stores located in the Three Counties of Beds, Bucks & Herts.
Charles Tyrwhitt Marlow
44 High Street
Marlow
Buckinghamshire
SL7 1AW
Love Island couple Alex & Olivia Bowen launch Threadbare's Valentine's Day Collection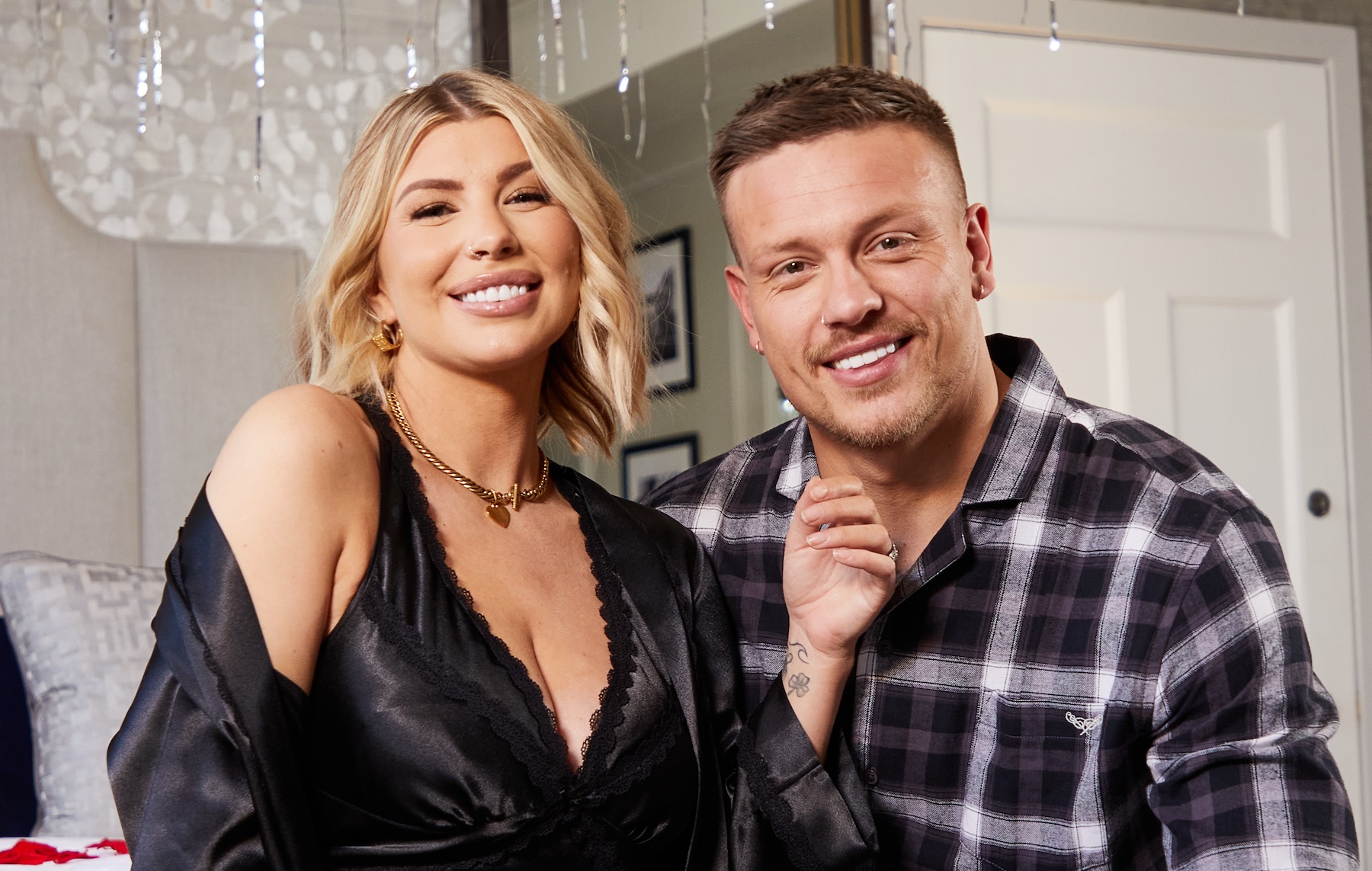 This Valentine's Day, Love Island power couple Alex & Olivia Bowen front Threadbare's exclusive Valentine's Day Collection campaign, featuring stylish and timeless capsule staples.
Threadbare's Valentine's Day Collection offers affordable luxury and premium quality essentials, with luxury, satin nightwear sets for a cosy evening by the fire, sophisticated date night midi wrap dresses, and winter chic puffers and gilets for a romantic Valentine's Day stroll.
Introducing Threadbare
Threadbare is driven to bring up-to-date fashion trends, great quality and even better prices to the fashion-conscious male. Staple pieces for every episode of life, from the normal work week through to activewear and holiday wardrobe inspiration.
Our favourites from the Threadbare Valentine's Day Collection
Sleep in comfort and style in our Threadbare Mia satin night dress

Lavender Women's Knitted Pink & Red Striped Jumper
Milton Keynes activewear brand Gymcub Apparel opens Christmas pop-up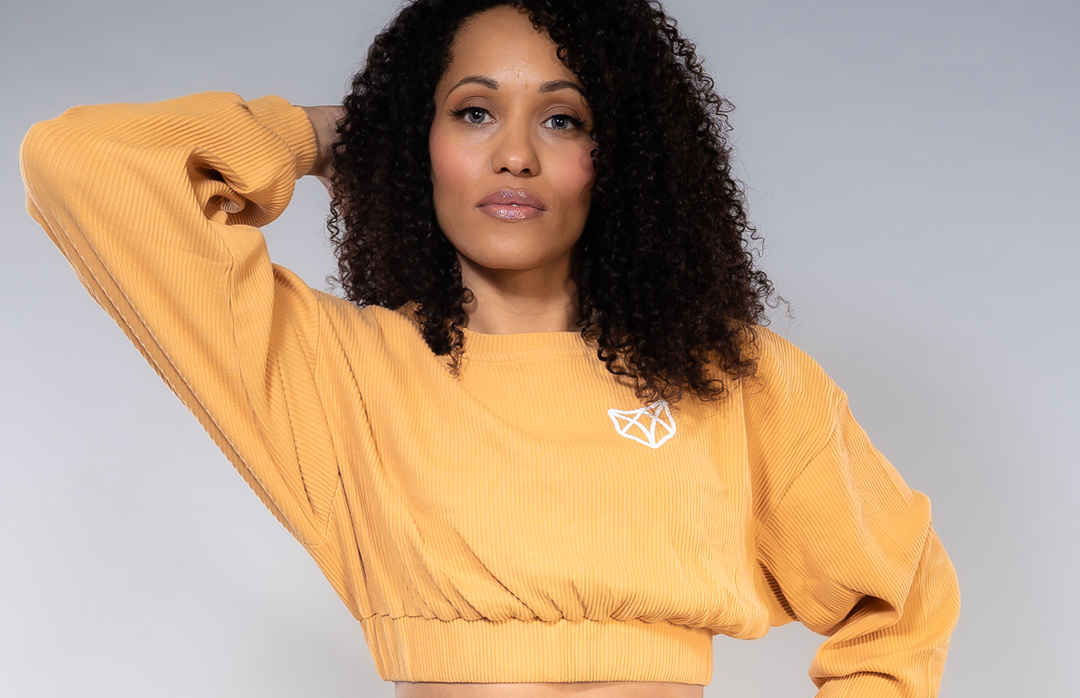 GymCub Apparel, the Milton Keynes born activewear and leisure brand is set to open a pop-up store at Midsummer Place, Milton Keynes following a successful launch online earlier this year. Opening at 10am on Wednesday 1st December, the brand – which has a growing fanbase in the local area – will welcome guests throughout the festive period and into the New Year, for a limited time only.
Marking the opening of its first ever physical store, the brand – known for its bold and daring designs – will sell its best-selling items including its co-ord signature tracksuits and hoodies, as well as its much-loved t-shirts, vests, leggings, and cropped tops. It will also launch a brand-new limited-edition line which will be exclusively available in store only.
Located opposite Victoria's Secret, the stylish activewear brand which has been spotted on a host of reality TV stars including Love Island's Connor Durman, Emma Woodhams and TOWIE's Roman Hackett will finally be available to purchase in store for the first time ever and will celebrate by sharing an exclusive 50% discount to first time customers on Friday 3rd December.
Richard Cayless, Owner of GymCub Apparel commented "GymCub Apparel was born here in Milton Keynes, so it only felt right to open our first ever pop-up in the city. We've had a successful launch period, growing our community online and this marks the next step in building that fanbase further. Our ethos is all about looking great and feeling great and that will be reflected in our instore experience"
He continued "We know Christmas is always a busy period, with lots of people on the lookout for the perfect gift and we cannot wait to bring our bold and daring designs to Milton Keynes. We cannot wait to welcome everyone when doors open at 10am on Wednesday."
Kinship Local helps champion local artists after a year of lockdown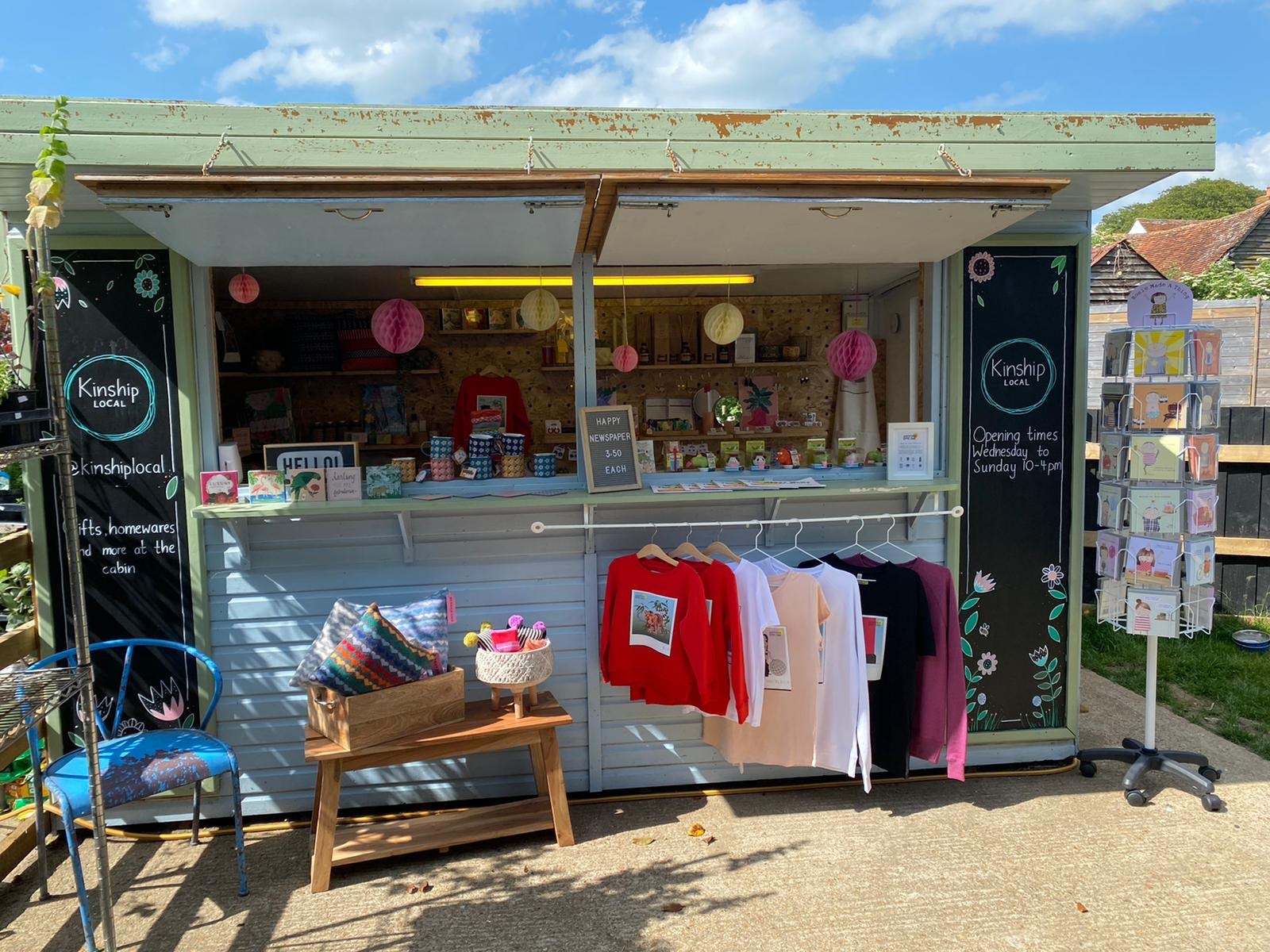 Newly opened gift shop Kinship Local in Rowsham has found a positive way to help fellow small creative businesses whose sales may have suffered this last year.
Kinship Local was founded by small business owners Claire Ashton and Jen Burton, who have a passion for championing British made, independently owned, small creatives.
Lovers of good quality, great design, and an eye for the bright and bold, Kinship Local has been working with a range of Pop-Up Makers since opening its doors in June.
Claire explains, "We wanted to offer artists, designers and makers a local space, set amongst our own curated eco-conscious products. We wish to encourage local residents to shop small, shop locally and to support those who make in small batches, who pour their hearts and souls into their products. Step away from the mass made, and embrace the slow made".
Jen adds, "Choosing to shop and buy from a small independent creative brings so much positivity. The Makers we choose to support in-store have a strong belief and ethic around sustainability and creating less waste, which is so important. Also, with the loss of income last year, it was crucial for us to help drive the local economy by supporting small businesses. We truly believe that you can buy beautiful, buy small and buy local all at once."
Retail space along the UK highstreets is unattainable for so many smaller retail outlets. So with the support and belief of the team at Wild Raven Farm Shop, Kinship Local has been hugely popular and a happy welcome to local residents.
Since their second week of opening, Kinship Local has offered 3-4 Pop-Up makers every fortnight to showcase a range of products. So far, Bella Bowlicious headbands, Bethan Lily knitted cushions, Tweedles Handmade eco food wraps, Bridie & Bert Towelling Robes, Wild Flora Handmade resin wildflower jewellery, and Sarah McFloof painted pebbles and gnomes have all featured.
This week they welcomed Am & Flo hand-painted peg dolls, Magic Kind clothing, Jennifer Wesley cards and Immy & Boo recycled and repurposed fabric headbands, lavender eye pillows and yoga bags. There is always a mixture of products to inspire and a range of handmade gifts to give.
Pop-Up Partner Beth from Bethan Lily Knitwear says, "Kinship Local has been an excellent opportunity for my business. It's kept me going and is definitely worth a visit to see all of the other lovely products in the cabin. Jen and Claire have been a pleasure to work with! "
"Since launching my products, both Claire & Jen have updated me daily and share in my excitement of sales and feedback with me….for this, I will always be thankful to them," says Claire from Bella Bowlicious.
Whilst they are full until the beginning of September, Claire and Jen are looking for more artists and designers to support and champion.