Our exclusive event series #lunchNbloggers is back this summer
The TrendLife Magazine team are excited to announce that #lunchNbloggers is back. Like many of our business partners and stockists, the Covid-19 pandemic forced us to make some difficult business choices. One of these was the unfortunate postponement of a number of #lunchNbloggers events.
Never heard of #lunchNbloggers?
We will excuse you. As you maybe aware, Bedfordshire, Buckinghamshire and Hertfordshire are home to some of the finest bars, restaurants, cafes, gaestro pubs and street food vendors in the UK.
The #lunchNbloggers experience has three core components that are unique at every event. Tasting, networking and last but not least, the #lunchNbloggers masterclass.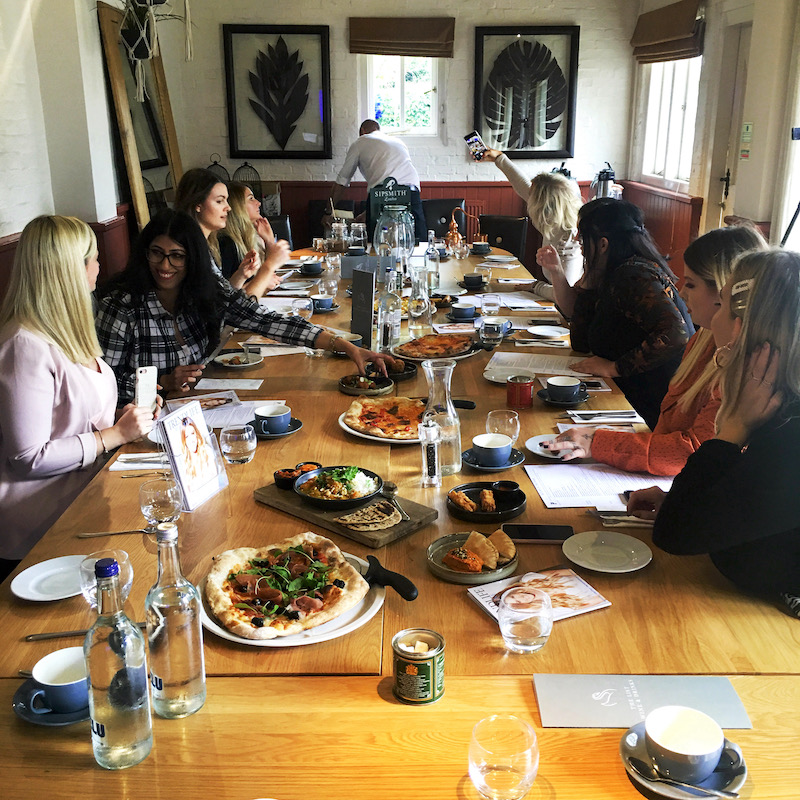 Tasting – To promote the finest eateries across the three counties, you have to do a lot of tasting. We sample everything from breakfast menus to desert menus from Watford to Northampton. The #lunchNbloggers experience will introduce you to new tastes and a unique culinary experience you will not forget.
Networking – The key ingredient to the unique culinary experience is the people around you. Your fellow #lunchNbloggers. The event is all about networking. We only invite bloggers who like to and understand the benefits of networking. We work with fashion bloggers, beauty bloggers, lifestyle bloggers and foodies too. We can't forget our food bloggers. We organise this event as a thank you to wonderful people who contribute to TrendLife Magazine.
Masterclass – Each #lunchNbloggers is based on a unique theme. That theme is tied to a masterclass that happens live on the day. You could be learning to knit the perfect scarf or gift wrap an important present like a pro. You could even learn about the importance of wine geology. Check out this video from Must Wine in St Albans.
What's up next for #lunchNbloggers?
We are currently working on a series of Summer #lunchNblogger events that will include midweek, afternoon/evening and weekend events. These will take place across Beds, Bucks and Herts from May/June when groups can meet outside. When the social distancing rules are relaxed and we can dine indoors, further events will be added to the schedule.

How to register for #lunchNbloggers?
#lunchNbloggers has always been and will remain FREE to attend. We occasionally ask for a small deposit to ensure those who are selected attend or notify us in advance so we can offer this exclusive opportunity to another member of the #lunchNbloggers team. To register for future events, please complete the form below and remember to follow us on instagram for updates on locations.
Register
[forminator_form id="16679″]
Stevenage Wagamama launches Palentine's Day encouraging pals to get together
Stevenage wagamama has launched its first ever Palentine's Day campaign encouraging friends to get together during the season of romance, to tackle loneliness and share their favourite bowls across the bench. It is widely believed that the time around St Valentine's Day can be very lonely for so many people.
So wagamama has decided to launch Palentine's Day, a campaign which celebrates your mates and encourages building bonds with your friends over some food. it is hoped this will provide a more inclusive experience for guests who may not want to celebrate Valentine's Day traditionally.
Available at Stevenage Wagamama and other selected locations across the UK (24 restaurants in total), when guests quote 'Palentine's' to their host, they will receive a sharing menu with their group and a Palentine's gift from us for one free drink on the purchase of a main.
The sharing menu features our most shareable dishes to recommend our most loved and iconic dishes, for the full wagamama experience.
The free drink options are 330ml bottle of Asahi, 125ml glass of prosecco, or any regular juice with the purchase of a main.
Regional marketing manager Sita Dobbs said: "We are really excited to launch our Palentine's Day campaign for the first time this year. We know valentine's day and the season of romance can be a lonely time for some people so instead, why not round up your Pals and spend this time celebrating your friendships.
"Our long benches and communal seating arrangements at wagamama were built to bring people together, no matter the time of year. When wagamama first opened in 1992, the concept was to bring people together on our egalitarian benches, everyone equal and sharing their favourite bowls. We can't wait to welcome our guests in to celebrate palentines this year."
The offer is available at Stevenage Wagamama and 23 other wagamama restaurants across the country until Monday February 14 and there are only 20 free items to redeem per day so be quick to claim!
Stevenage Wagamama Address
Stevenage Leisure Park
Stevenage
SG1 2UA
Pick your destination for the perfect date night in Hertfordshire
Love is in the air across Hertfordshire… everywhere you look around… Maybe it's because Valentine's Day is around the corner, or perhaps we all just need a little love this time of year. Either way, we truly feel a lot of blossoming romances are in the air. So, whether you're getting first-date butterflies, reconnecting with an evening away from the everyday or celebrating a special romantic occasion, the wannabe Cupids here at Visit Herts have gathered our favourite date night locations for those dreamy memories to be made.
Whether you're a classic movie-dinner-drinks kind of couple or looking for an unforgettable way to make that first impression, we've got the spots we know you lovebirds will enjoy!
The Bricklayer's Arms
Gazing into each other's eyes over a glass of red wine in a cosy corner under the glow of twinkling fairy lights… not just the stuff of movies, thanks to the charming gastro pub that is The Bricklayers Arms in Flaunden! Set within the stunning rolling hills of the Chess Valley, this 18th century pub is the perfect setting for your cosy date night out.
We could go on and on describing their delectable dinners, but instead we'll just casually mention that they've won the Good Pub Guide's Dining Pub of the Year 2020, and they've won every year for the past five years, and that they hold an AA Rosette for Culinary Excellence… so we think you get the (delicious) picture!
The Gardens at Knebworth House
Why not set a date with your significant other to explore the grounds at Knebworth House? Or perhaps you're looking to woo your first date with a nature walk? Either way, the gardens at Knebworth House is a pretty perfect place to see flowers blossoming to the sound of nature and butterflies dancing in the air.
An ideal date for the summer where you and your special someone can enjoy a free Garden Tour with a member of their Gardens Team.
https://www.knebworthhouse.com/
The Grove Hotel
When the special occasion comes around, a birthday, an anniversary, or dare we say, an evening involving a special ring(!), you need luxury settings and specialist care to pull off the perfect date night. Enter The Grove Hotel, host to celebrities and royalty alike, and the perfect option for your special night.
Indulge in a delicious dinner in the luxurious setting of The Glasshouse restaurant, opt for a couples' spa day to unwind together, or book an overnight escape for that staycation we're all dreaming about.
Pendley Manor
It's all about rural relaxation at classically beautiful Pendley Manor. Enjoy a date night away relaxing and reconnecting with their ideal staycation offer – with a two-night stay, a welcome bottle of prosecco and the use of their plush pool and leisure facilities, it's the perfect antidote to last year's stresses.
https://www.pendley-manor.co.uk/
Paradise Wildlife Park
If you feel like stepping away from the traditional romantic locations, Paradise Wildlife Park have the answer for those 'unforgettable' date days! Get to know each other while feeding some tigers, saying hello to the penguins, or meeting the meerkats with one of their experience days.
Or why not let your inner childlike personality free and wander around the World of Dinosaurs? Brave the Dinosaur Train ride, the 'Rex Express', and travel back in time, revealing a new prehistoric surprise around every corner.
The Snow Centre
Adrenaline junkie couples, we're not leaving you out! A date doesn't have to be 'romantic' in the traditional sense. How about an evening of learning new skills and getting active as you ski and snowboard at The Snow Centre? Spend some time together slipping and sliding on the slopes at the biggest real snow centre outside of London – what a way to break the ice!
https://www.thesnowcentre.com/

Verulamium Spa
Looking to add a bit of luxury to your ultimate date? Why not spend the day relaxing at Verulamium Spa and escape the world together in one of their 5-star luxury treatment rooms or couple suits? Receive a variety of treatments including, facials, massages, body treatments and more! It's the perfect experience for those looking to add a little wellness to their lives, and… isn't that all of us?
https://everyonespa.com/our-venues/verulamium-spa-st-albans/
Hitchin Lavender Fields
Set a date for the summer and dig out those gingham picnic blankets and woven hampers, we're taking you back to a more traditional, romantic setting. If you're in the 'getting to know each other stage' or you're already one of two, living in your own little world, there's nothing quite like a peaceful sit down in the fields of Hitchin Lavender, watching the world go by and enjoying the company of that special someone. Bring the strawberries and chocolate, finger sandwiches and bubbly and spend the day soaking in the scenery and romance at Hitchin Lavender.
https://www.hitchinlavender.com/
Atria Watford
A classic cinema and dinner date? A bit of late-night shopping?  Whatever your go-to date idea may be, Atria Watford have something for you and your lucky someone to enjoy, whether you're heading out for an anniversary celebration together or looking to woo someone special with a thoughtful gift.
Enjoy St Albans Food & Drink Festival returns this September
The St Albans Food & Drink festival, now in its 14th year, features an exciting programme of events across September including Tom Kerridge's Pub in the Park, Stars at the Bars and the Oaklands Farm to Fork.
St Albans, in Hertfordshire, has a remarkable history and reputation for food and drink and the month-long event is hugely popular with locals and visitors looking for an incredible foodie experience.
There will also be a 24-hour photography challenge, pub quizzes and iconic film nights, livestock events, street food nights, Bollywood dancing, live radio events and pop-ups a plenty – it truly is a jam-packed festival with something for everyone.
Manager of St Albans Bid, Denise Parsons, said… 
"We are delighted to sponsor the festival which celebrates our food and drink heroes who have gone above and beyond during lockdown. There is something for everyone to enjoy, including live music which is hugely welcomed and adds to the vibrancy of our outdoor events."
Highlights… 
Tom Kerridge's Pub in the Park event on 10th-12th September in Verulamium Park brings together special chefs, artisan products and top musicians for one big party- with live music from big names such as All Saints, Basement Jaxx, Gabrielle and the Lightening Seeds.
The awards for the district's best food and drink businesses are one of the festival highlights but due to the pandemic have been scaled down to one prestigious award this year. Nominations for the Kate D'Arcy Award, recognising an individual who has given exceptional customer service to their community during the pandemic, are open until Monday 23rd August and the nominees will be invited to a presentation event on Monday 20th September at St Michael's Manor Hotel.
The festival culminates with the incredible FEASTIVAL street event on Sunday 26th September. The central streets in the town centre will be peppered with over 100 food and drink stalls, street entertainment, bars with live music, art and crafts activities, cookery demonstrations, face painting and fun for all ages.
Just 20 miles and 20 minutes by train from London St Pancras International and excellent road connections, St Albans is easily accessible, making it the perfect day or staycation destination.
Where to stay? 
Accommodation in the city centre ranges from small and intimate bed and breakfasts to large hotels including the stunning country style Manor hotel, St Michaels Manor, the luxurious Sopwell House and the Victorian Grade II listed Torrington Hall.
Find out more details about the St Albans Food & Drink Festival and where to stay at EnjoyStAlbans.com 
*NEW* 2021/2022 official St Albans Visitor Guide out now! Click here 
Foodie Related Notes: 
An historic inn-keeping city, St Albans has the most pubs per square mile in the country and is home to England's Oldest pub, Ye Olde Fighting Cocks, as confirmed by The Guinness Book of Records. 
Did you know the hot cross bun originated in St Albans. The 'Alban Bun' was created by Brother Thomas Rocliffe, a 14th Century Monk at St Albans Abbey, who developed the recipe and would feed the poor on Good Friday.
The city is famous for its café and pub culture with a fantastic range of award-winning eating and drinking establishments.
About St Albans: 
St Albans is one of the best-kept secrets in UK tourism. A historic gem of an English Cathedral City just 20 miles and 20 minutes by train from London is easily accessible by road with links to the M25, M1 and A1(M).
The city's colourful history and heritage can be seen in the Roman remains and the beautiful medieval architecture and picturesque buildings that look spectacular all year round.
A fabulous shopping destination, St Albans is home to an array of innovative independent retailers and well-known chains.
There are lots of green, open spaces and parks, making St Albans a family-friendly destination.   
*NEW* 2021/2022 official St Albans Visitor Guide out now! Click here. Find out more details about the St Albans Food & Drink Festival and where to stay at EnjoyStAlbans.com