I have a disgusting amount of make up, for one face it is really unnecessary. Despite the stash, I have firm favs that never leave the make up bag/shower.
Lips
Lipcare– Blistex Intensive Moisturiser Hydrating Lip Cream.
I also really like Burts Bees lip products and Yes to Carrots lip balms.
Lip liner– Rimmel Exaggerate Lip Liner in Eastend Snob
Rimmel lip liner's are very cheap and great at what they do, so never really branch out to other brands. Although I do have the Mac Cherry liner, which is great with any red lip.
Lipstick– Kate Moss for Rimmel in 107 (matte)
This has been my favourite range for a while now- the colour range and the formula is very good and it feels like a high end product.
Lipgloss– Barry M Clear Lipgloss
I am really not too fussed when it comes to clear gloss but this one smells delicious and doesn't leave your lips sticking together.
Eyes
Eyeshadow– Revlon ColorStay 16 Hour Eyeshadow Quad in Addictive
A great quad for smokey eyes or the shades can be used on there own if you want a quick and simple eye. I must also mention MUA palettes here. The are fantastic and so cheap! My favourites are the Heaven & Earth Palette and the Undressed Palette (£4 each), which are great is you don't have the budget for Urban Decay's Naked Palette (rrp £35)
Mascara– Loreal- Volume Million Lashes
This is a great volumising mascara, I have repurchased several times. I would like to try Benefit's They're Real next though but have heard that for the price £18, it does dry out very quickly.
Eyeliner– For winged liner: Rimmel Exaggerate Liquid Eyeliner
This liner is really long lasting and doesnt dry out and crack. I have had the same one for months and is showing no signs of running out. Big thumbs up.
For water line- Rimmel Scandaleyes Waterproof Kohl Eyeliner in Nude
This is perfect for brightening the eyes, if you feel white can look a bit drastic, this is a perfect alternative and a lot cheaper than the similar MAC version.
Base
Foundation– Revlon ColorStay
I use different shades throughout the year but tend to be one of the lightest with a yellow undertone- the coverage is medium to full and sets quickly so you have to work it in to the skin swiftly. I also really like the Bourjois Healthy Mix foundation, but it is a little too dewy for my oily skin. I love the finish that you get with Rimmel Wake Me Up foundation but again, it wasn't the right finish for me at the time (summer). I may go back to both of these in the future. I need a bit more coverage and ColorStay is perfect for that.
Concealer– Collection (2000) Lasting Perfection Concealer in Light and Fair
Who doesnt like this concealer? It is cheap and great for under eyes. I use Light and Fair depending on the time of year and whether I am tanned. I often use it when I am contouring and blend out.
Powder– Rimmel Stay Matte in Translucent
A cheap transluscent powder- it really does the job- it doesnt leave a colour on the skin and eradicates shine, perfect for setting make up.
Bronze– Bourjois Delice de Poudre
This is good if you want to do a subtle contour on the face. It smells wonderful too (and looks like chocolate). I also like the MUA bronzers which you can pick up for £1 but the colour range is a bit limited.
Blush– Revlon PhotoReady Cream Blush in Pinched
This is a lovely cream blush, I will definitely be picking up more in other colours.
Brows– MUA Brow Kit
A fab brow kit, applies very well and stays on. Great if you need to fill in any gaps and define brows on a budget. I picked mine up for £3.50 and use it daily.
MUA Clear Mascara
I use this just to set my brows, you can pick it up for £1.
Tan
Gradual Tan– Palmers Cocoa Butter Formula Natural Body Bronze Lotion
Cocoa butter and gradual tanner, which means it wont dry out your skin like a lot of tanning products do.
Overnight Tan- St Moriz Instant Self Tanning Mousse in Medium and Dark
I have never had a problem with applying this product, I buy it over and over again. I have only tried the mousse but have been very pleased with the results every time.
Shower
Scrub– Soap & Glory Pulp Friction
One of my favourite S&G products. Its a great scrub, I try and use it once a week.
Shower gel- Lush Snow Fairy (only available at Christmas)
Smells like Love Hearts and candy floss. So yummy! I will be sad when this is all used up, I wish I had bought more.
Shampoo– Aussie Miracle Moist
Conditioner- Aussie Miracle Moist- You will either love or hate the smell of these products but I personally love them. They are very inexpensive and work wonders in damaged hair.
Haircare
Dry Shampoo– Batiste Tropical Dry Shampoo
Everyone's favourite dry shampoo?
Brush– Tangle Teezer
Transformed the way I detangle my hair, forever. These can be used on literally all hair types. I will never look back.
Skincare
Make up remover– Bioderma (French product)
This has transformed the way I take off my make up. It removes everything. I will never use facewipes again! I use some of this on a extra large cotton wool pad (from the baby section of Boots) and it is the most refreshing product that leaves your face feeling clean and revitalised. Bioderma will be coming to the UK very soon and I personally cannot wait!
Face wash– Neutrogena- Visibly Clear Daily Wash
I use this for a deep clean to help with dreaded breakouts. This can be used a mask too, just apply to face and leave for 5 minutes.
Mask– Lush Catastrophe Cosmetic Blueberry Mask
This is a lovely calming mask and is great if you have the odd spot. Smells good enough to eat.
Body
Body Butter– Soap and Glory Righteous Butter
This is quite a sweet smelling product but it is really yummy. It is a butter, so you only need a little bit but it feels really indulgent on the skin and the scent lasts for ages.
Body Moisturiser– Garnier Intensive 7 Days in Cocoa Butter
This is such a great moisturiser, it absorbs really quickly and my skin stays soft for a long time afterwards. I got my last bottle on offer for under £2.
Beauty Tool
Body Shop Dry Brush
I try to use this every day to get rid of dead skin and improve my circulation. It stimulates the lymphatic system and helps to eliminate toxins- great for cellulite.
Nails
Essie– Head Mistress & Fiji
I'm a big fan of the Essie diffusion line which is now in Boots and Superdrug. I stock up when its on 3 for 2 and my collections is coming along nicely. I could easily wear Fiji everyday. It is a great nude colour for work.
Blake Kuwahara launches Summer 22 eyewear collection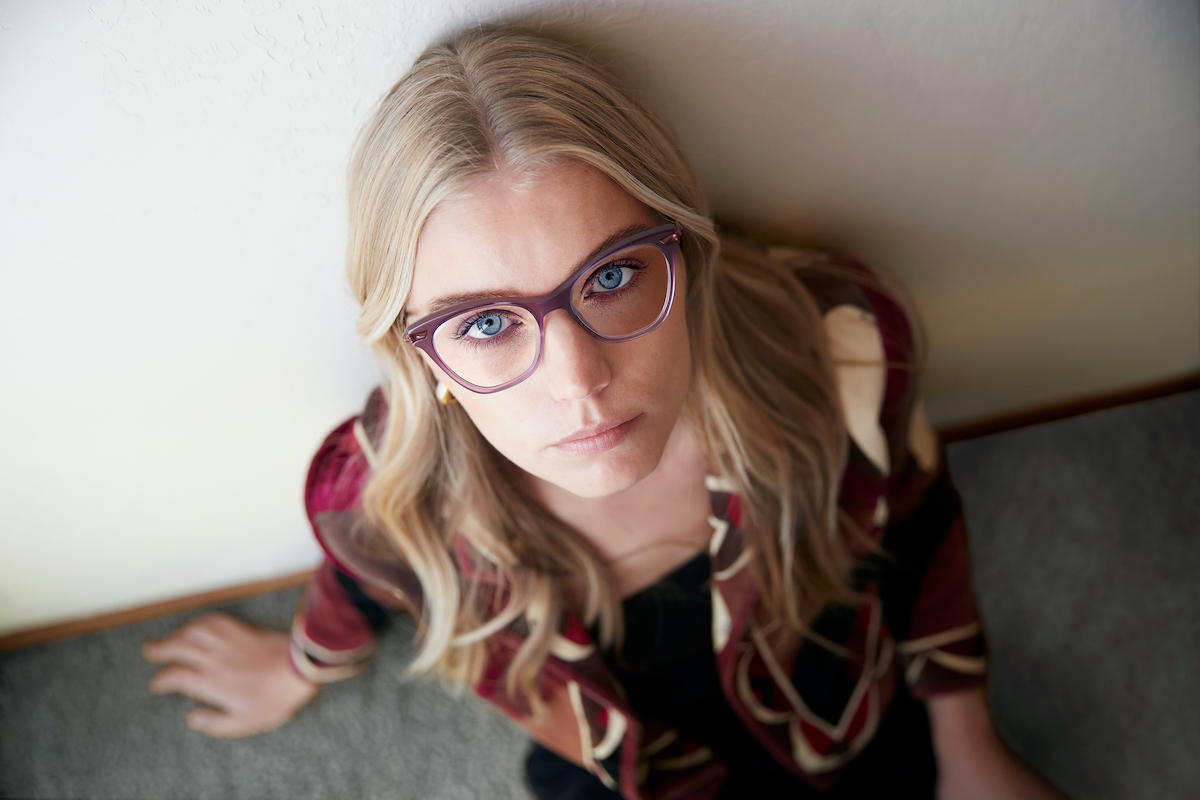 "After two very long years dealing with the pandemic, we are finally seeing light at the end of the tunnel" says Blake Kuwahara.  "This Spring Collection reflects that hopeful optimism with more color and adventurous shapes".  His design ethos of creating eyewear that is at once artful yet wearable is evident in his signature frame-within-a-frame laminated technique and use of contrasting colors as well as his cast bone motif used in his Grey Label Collection.
Also dropping this Summer will be a limited edition of the now iconic CHAMBERS in a custom Rainbow acetate in honor of PRIDE. "I posted a rendering of the CHAMBERS in rainbow colors on Instagram to celebrate and recognize the LGBTQ Community during PRIDE Month, and it got such an overwhelming response that we decided to produce it!", says Kuwahara.
"With the lifting of COVID-related restrictions and a pent-up demand, retail is continuing gain traction buoyed by consumer optimism," says Richard Mewha, President of Fade To Grey, the distributing company for Blake Kuwahara Eyewear.
Blake Kuwahara designs are available from leading independent opticians across Bedfordshire, Buckinghamshire and Hertfordshire.
Kuwahara, the founder of the multi-disciplinary design agency, Focus Group West, first gained international acclaim as the creator and designer of the exclusive KATA Eyewear brand.  His groundbreaking use of engineering and production techniques together with his highly curated eye reinvented the way eyewear design is approached today.
Kuwahara's bold experimentation and innovation have gained him a following in the fashion media and has been profiled in Vogue, ELLE, Bazaar, GQ, In Style, and Esquire and has been seen on E!, Access Hollywood, MTV, and CNN.  Buzzmagazine voted Kuwahara one of the "100 Coolest People in Los Angeles" and Detour magazine called him, "a gifted talent, blessed with savvy and unmistakable sense of style."  
Kuwahara was recently named by Brilliant Magazine as one of the "100 Most Important People in the Eyewear Industry". Kuwahara has also collaborated extensively on eyewear collections for John Varvatos, Carolina Herrera, Isaac Mizrahi, Behnaz Sarapfour, Hanae Mori, and Coach.
A celebrity favorite, Kuwahara's designs are worn by Lil Nas X, Elton John, QuestLove, Brad Pitt, Sandra Bullock, Charlize Theron, Halle Berry, Robert Downey, Jr., Will Smith, Jeremy Piven, Samuel L. Jackson, Casey Affleck, Slash, and Gwyneth Paltrow among many others.
Four bold new trends leading mens wedding fashion choices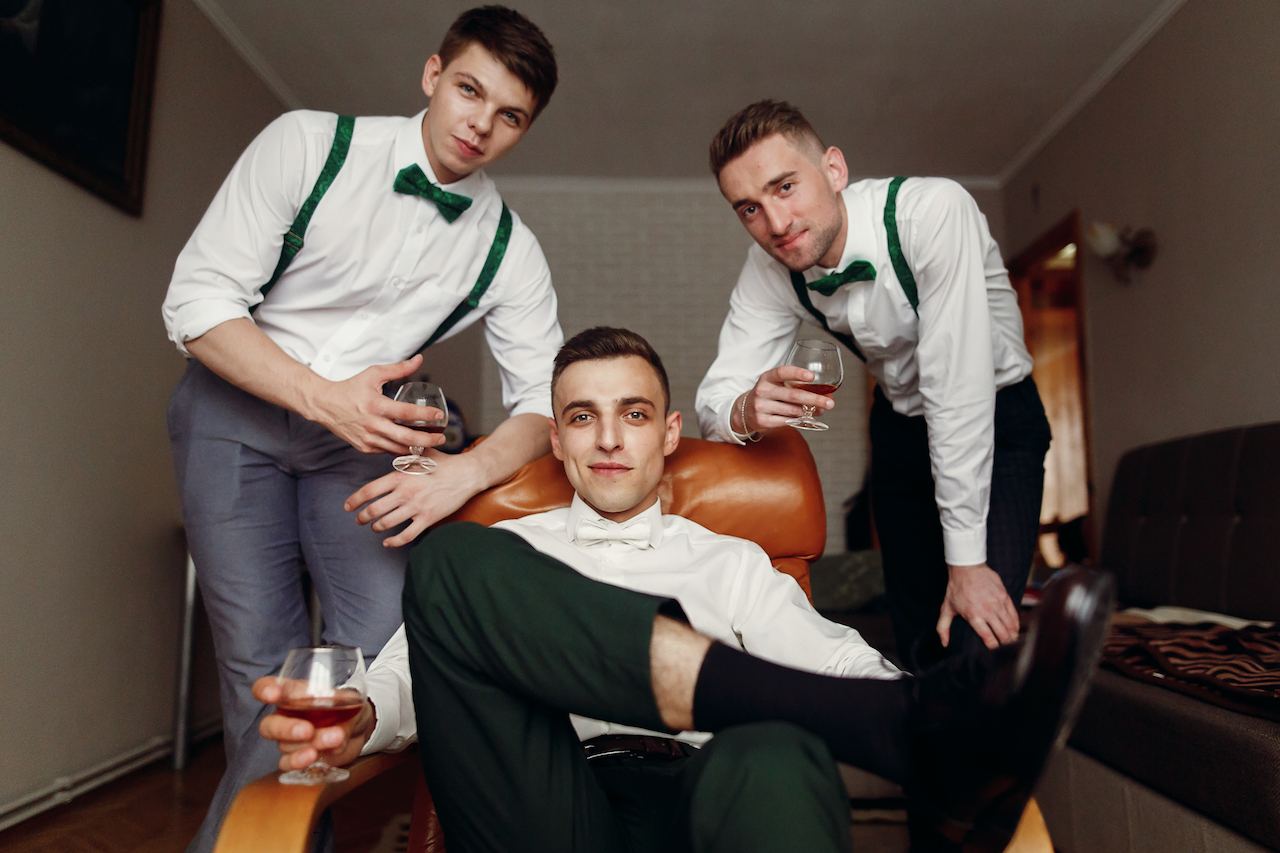 As a groom, it might be daunting to know where to start when it comes to choosing your wedding suit. There are some classic choices you can go for. For years, grey, blue, or black suits have been the favourite for grooms across the nation, matched with timeless brown or black shoes. There are options to personalise this suit too, with bold ties or even socks giving you an opportunity to express your personal flair in a subtle way.
But your wedding style shouldn't be restricted by tradition. Menswear clothing retailer Charles Tyrwhitt have looked into current trends in men's wedding fashion and helped create these tips on bringing these trends to your own wedding.
The roaring '20s and the 2020s
Formal suits have been around for decades. However, fashionable suits from a century ago were worn very differently from the suits that have seen popularity in recent years.
Having said that, with the global success of Peaky Blinders, '20s fashion is back in style. If you happen to be a fan of the series, why not take inspiration for your wedding suit? The cast is dressed to the nines throughout, and there are some easy ways to replicate their iconic look.
First off, choose a tweed suit in Herringbone or Donegal for a more rustic style. To complete the '20s look, you're going to need to make use of accessories. Naturally, the Peaky Blinders were defined by their much-mythologised peaked cap, so adorning yourself in one of these will give you that instantly recognisable silhouette that you're looking for. Top this all off with a statement gold pocket watch to complete the look of a well-dressed working gent.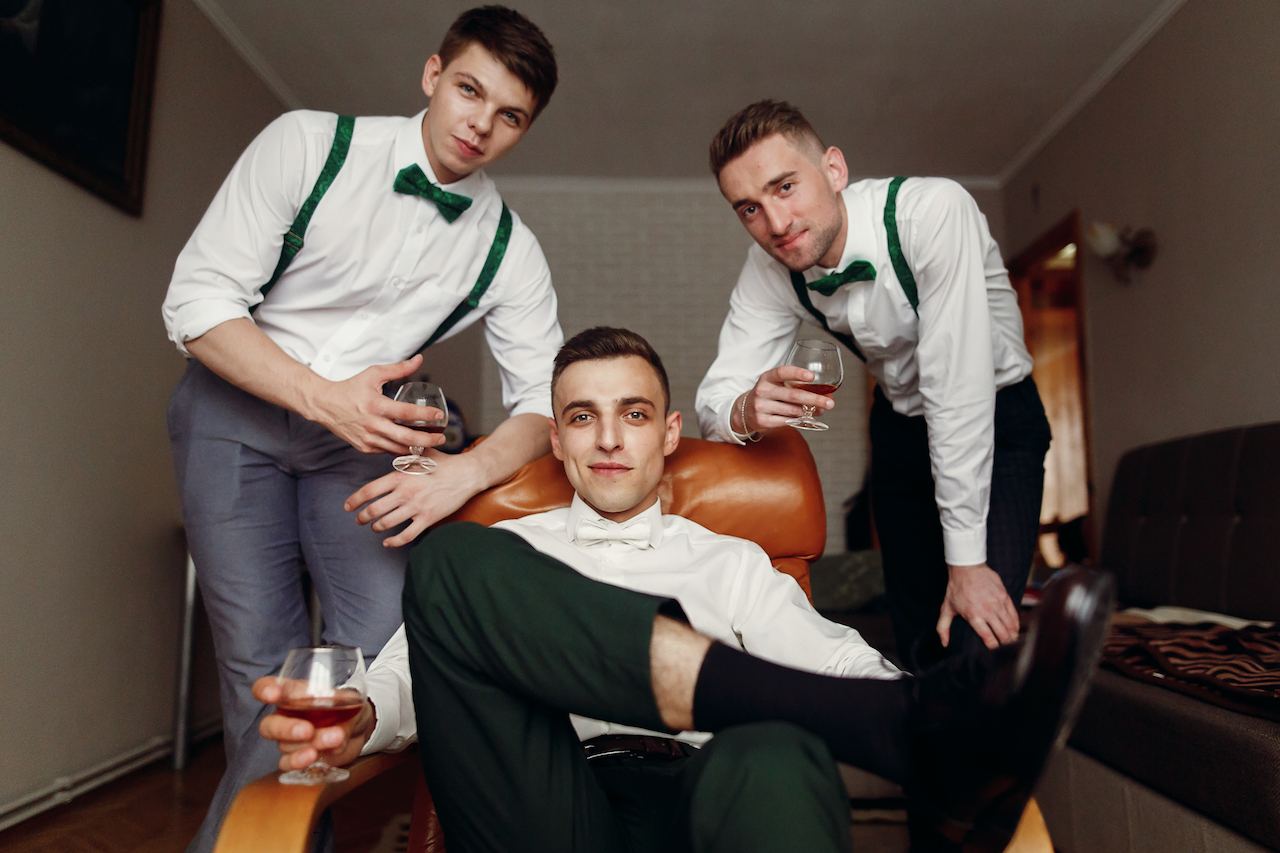 Be creative with colour
While some of us will want to appeal to tradition, others will prefer to break away from those styles that came before. For these intrepid pioneers of fashion, experimenting with colour is a fantastic way to express their style know-how.
It can be tempting to play it safe with blues and greys, but your wedding day is the best time to make a statement. Now, you can opt for colours that will turn heads without sacrificing any of the class appropriate for the special occasion. In this sense, a deep red suit, in burgundy or wine, is a unique option that oozes sophisticated style. It's a choice that will serve you well throughout the wedding day, being the perfect choice for both the ceremony and the late-night dancing.
Depending on when your wedding takes place, matching your suit colour with the season can be a great way to tie your whole day together. Unsurprisingly, an ONS survey from 2018 showed that summer was the most popular season for weddings. To pair with this season, you should go bright with light and natural colours. If you're having a winter wedding, dark colours are the most fitting, so try a pine green or earthy brown.
Marriage in microprint
Colour and material are overarching points to consider when choosing your wedding suit. You'll likely already have an idea of what you're looking for in these places. However, the smaller aspects of men's suits are just as important as the main pieces.
When you're looking to add detail to your suit, many people will turn to accessories first. Pocket squares, ties, socks, and jewellery can be great additions, but a microprint suit can really serve to bind your look together. While forsaking the standard block-colour look, microprint items ensure that, no matter how close they get, people will always see more detail in your outfit.
There is plenty of variety in the patterns that you can choose too, so you can be specific about going for a pattern that really suits you. If you're looking for ways to diversify your outfits too, you could use a microprint jacket with matching coloured trousers and waistcoat. You could even go for a microprint shirt to give a more subtle splash of variety to your look.
A statement waistcoat
There are many bold trends hitting men's fashion that can make it overwhelming to settle on one style. Being restricted by tradition can be difficult, but being faced with too much choice can be just as challenging. Sometimes, a middle ground provides the best solution.
If you're fond of a traditional suit but would like to embrace a modern twist, picking a statement waistcoat for your look could be the perfect answer. You can incorporate this as a complementary colour or pattern to match the rest of your look, but you can be as daring as you choose.
Pairing a tartan-patterned waistcoat in blue and green could be an understated flair of colour to really elevate your outfit. On the other hand, a striking mustard waistcoat against a dark blue suit will make sure that you're the centre of attention throughout the day. Better yet, once it's time to doff the jacket and hit the dancefloor, you'll be impossible not to notice.
These are a few ways that you can stay on-trend with the latest wedding looks and make sure that you're dressed in style for the big day. Weddings are a momentous occasion, whether you're the lucky groom or an honoured guest, so it's important that you look your best.
About Charles Tyrwhitt
Wherever you're working, weekending or getting wed, Charles Tyrwhitt have got the togs for you.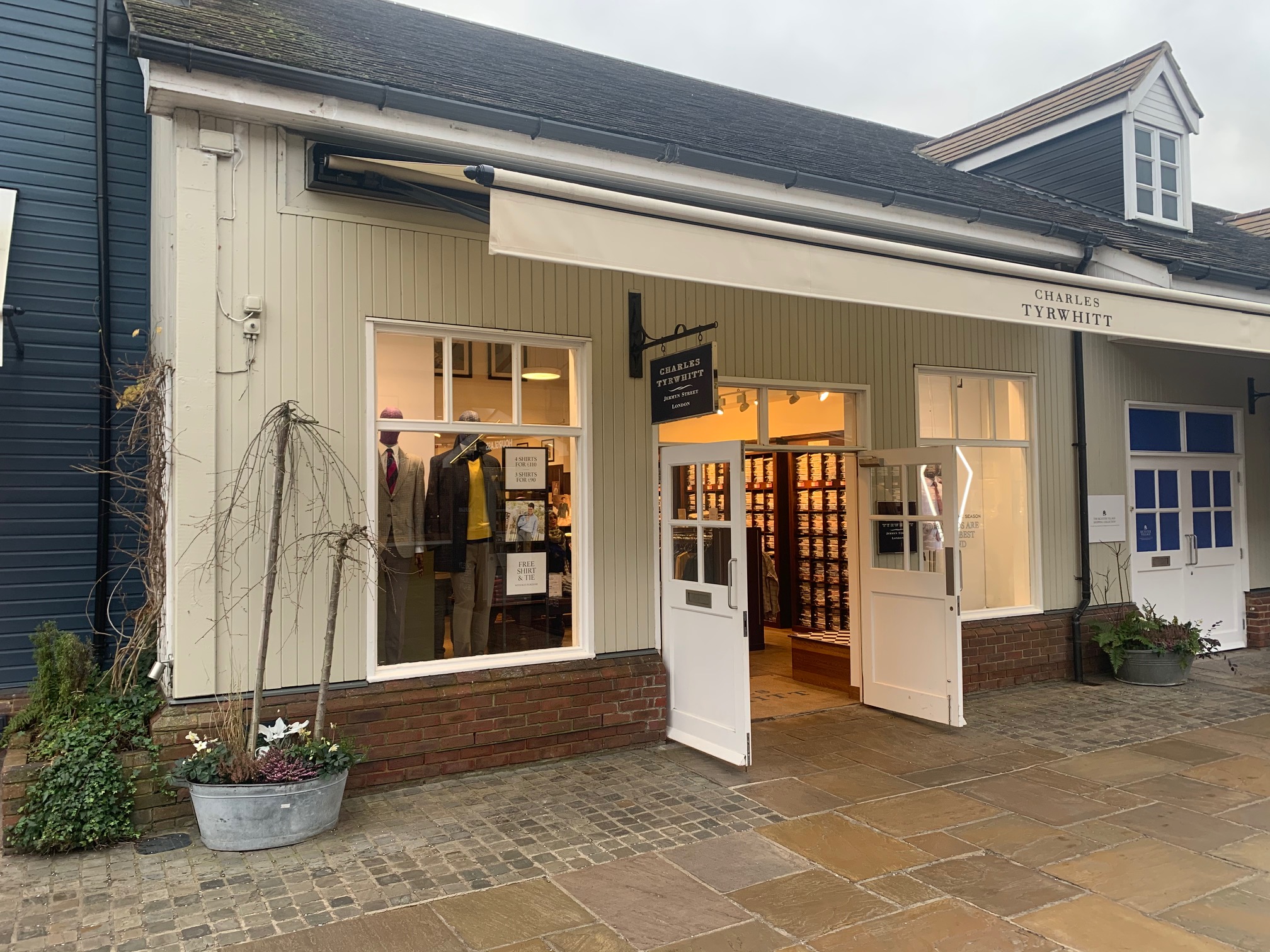 Charles Tyrwhitt Bicester Village
Charles Tyrwhitt is a part of Bicester Village is situated in Bicester, England. Open 7 days a week, the store is one of two Charles Tyrwhitt stores located in the Three Counties of Beds, Bucks & Herts.
Charles Tyrwhitt Bicester Village
50 Pingle Drive
Bicester
England OX26 6WD
United Kingdom
Charles Tyrwhitt Marlow
Charles Tyrwhitt Marlow is located on Marlow High Street. Open 7 days a week, the store is one of two Charles Tyrwhitt stores located in the Three Counties of Beds, Bucks & Herts.
Charles Tyrwhitt Marlow
44 High Street
Marlow
Buckinghamshire
SL7 1AW
Love Island couple Alex & Olivia Bowen launch Threadbare's Valentine's Day Collection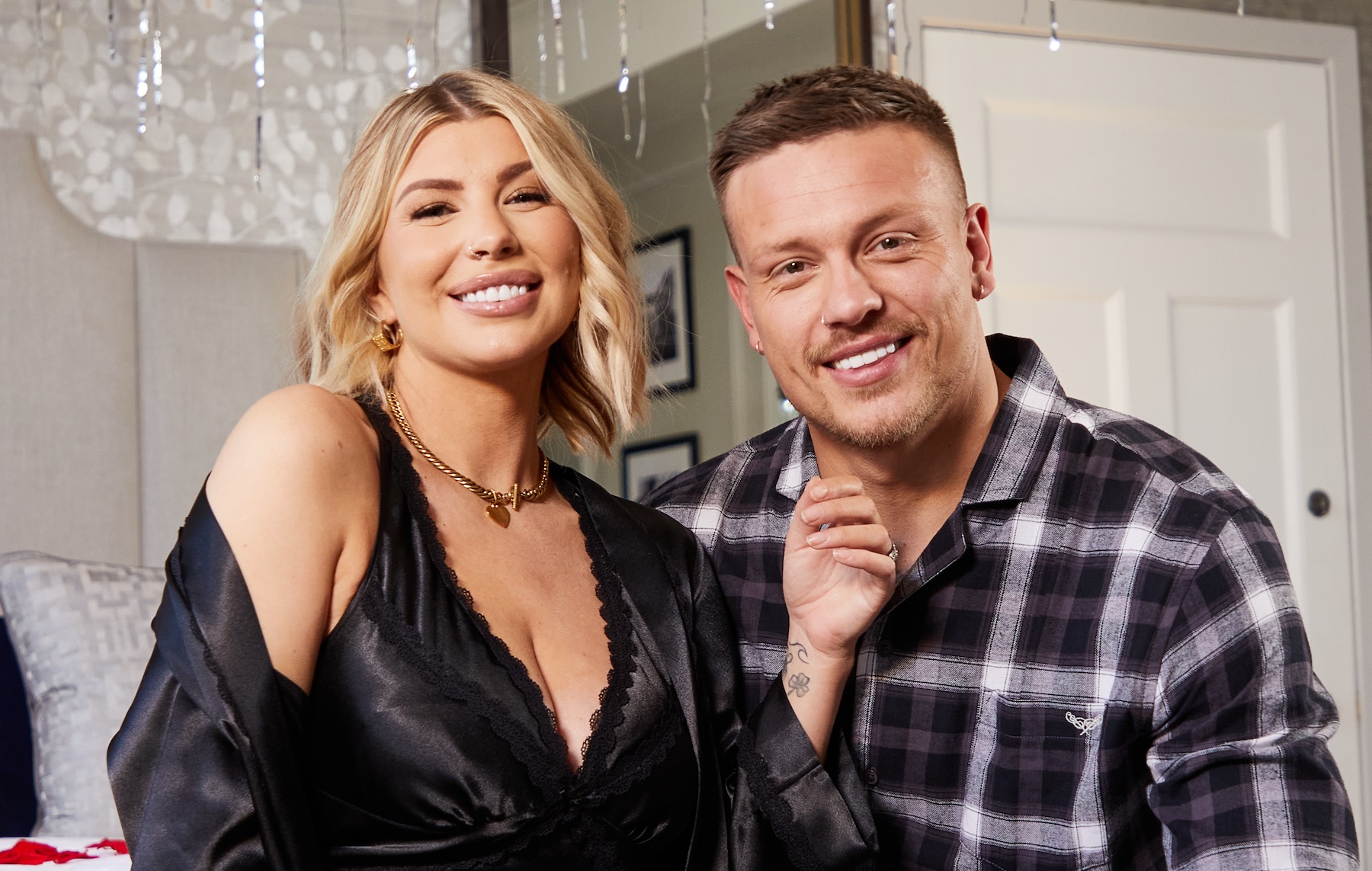 This Valentine's Day, Love Island power couple Alex & Olivia Bowen front Threadbare's exclusive Valentine's Day Collection campaign, featuring stylish and timeless capsule staples.
Threadbare's Valentine's Day Collection offers affordable luxury and premium quality essentials, with luxury, satin nightwear sets for a cosy evening by the fire, sophisticated date night midi wrap dresses, and winter chic puffers and gilets for a romantic Valentine's Day stroll.
Introducing Threadbare
Threadbare is driven to bring up-to-date fashion trends, great quality and even better prices to the fashion-conscious male. Staple pieces for every episode of life, from the normal work week through to activewear and holiday wardrobe inspiration.
Our favourites from the Threadbare Valentine's Day Collection
Sleep in comfort and style in our Threadbare Mia satin night dress

Lavender Women's Knitted Pink & Red Striped Jumper