Why marketing is more important than ever during the shutdown
When business is going well, bookings are up and loyal customers keep returning, marketing your business automatically becomes an afterthought. As we enter a time of uncertainty for so many businesses, it is clear that marketing is more important than ever during this Covid-19 shutdown.
Why should I be marketing if my business is closed?
At first, it may sound strange to be marketing whilst your business is closed but it actually makes perfect sense. Most of your customers will be in the same situation – at home wondering when this shutdown will come to an end.
Regardless of the services you provide, once the shutdown ends, your services will be needed again. If you are not advising your loyal customers that you value their business and look forward to servicing them again, you can be assured that your competitors will be.
Keep your existing clients informed

Unfortunately, many businesses like yours have had to shut their doors to help control the spread of Covid-19. Clients you have created a relationship with will care about your business – let them know your plans before they start to see your competitor's plans on their timelines.

Keep your existing clients engaged with your brand

If you are in the beauty industry, use social media to share some engaging tutorials or tips that your clients can use during the lockdown. Do you sell wine? share a selection of meals for two recipes with a fabulous wine recommendation. Regardless of what service you provide, you can share tips and advice with the help of a good graphic designer.

Keep your existing clients entertained

With the vast majority of the British public on lockdown, scrolling is going to become the number one activity for a bored nation. YouTube, Instagram, Facebook and, TikTok are going to be the default destinations for many and if you are not promoting your business, how are you going to maintain your relevance? Think about creating an interesting video.

Keep your existing clients!

Existing clients you have created a relationship with will care about your business for as long as you stay relevant. By continuing or improving your marketing strategy throughout the shutdown, you increase the chances of keeping your existing clients and gaining potential new ones.

What type of marketing should I be focused on?
Good marketing costs money. There is no denying this simple fact but as you will probably have more time on your hands, you will be able to do some of the work yourself.
Focus on social media and digital marketing that enable you to capture data. The ability to capture leads and opportunities for the future is the most important goal.
Social Media

Using social media platforms for marketing is not new to you. You may have outsourced it or dabbled with it when you had some spare time. After reading this, you should be aiming to become a social media expert in the next 30 days. Experiment and get a good understanding of each platform's pros and cons.

Email

Most people hate email marketing because they do not have the time to read it. Guess what most people have now? If you didn't have a newsletter before, now is the time to start one. Here is the perfect opportunity to share your past and current successes with client testimonials and images of your work. You have a wealth of knowledge and experience so share it with existing and new potential clients.

Offer discounts vouchers

When the shutdown comes to an end, how are you going to entice your clients back? How are you going to stop competitors from stealing your clients? Offering your clients discount vouchers they can use when the shutdown is lifted is one way to entice your clients back once you open your doors.
A brand new Bingo Brunch experience is coming to Watford's Barrio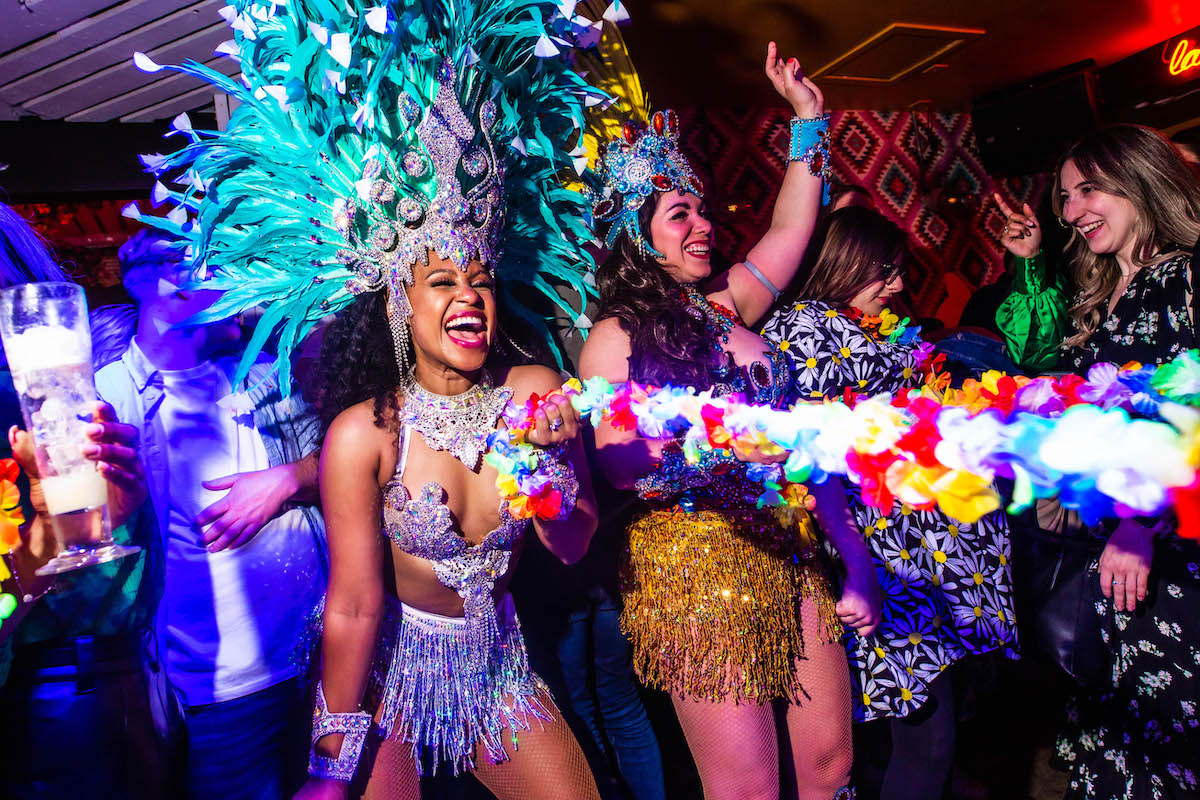 On 5th November, the newly opened Barrio venue will launch its bingo brunch concept, La Isla Bonita 80s Brunch, in Watford. Translating to 'The beautiful island', La Isla Bonita Brunch aims to recreate that perfect tropical holiday feeling, with food and cocktails galore, bingo mayhem and 80s music all afternoon-long.
Already a popular party experience at Barrio Shoreditch, the 80s themed musical brunch is scheduled to run every Saturday from 12pm, and will include a two-course brunch, welcome cocktail and a variety of bottomless drinks (prosecco, spiced rum sangria and Sol beer).
Once guests have finished tucking into a menu of delicious burgers, including Queso Libre as a vegetarian option and Saint and Sinner as the vegan burger plus Barrio Churros, the musical bingo commences, brought to life by a captivating host and nostalgic 80s tunes by Barrio's best DJs. Brunch goers can expect witty bingo calls, group singalongs and impromptu tableside performances. Prizes for winning the brunch also include a very tasty £100 bar tab.
For £35 per person, over-21s can enjoy 90 minutes of bottomless drinks and then eat, bingo and party until 5pm.
Those interested can book the first La Isla Bonita 80s Brunch at Barrio Watford for a special launch price of £25 (valid for 5th and 12th Nov brunch dates).
More about Barrio Watford
On 20th October 2022, Barrio Familia opened its first out-of-London venue in Watford, bringing Latin-inspired cocktails, authentic Mexican eats, a killer happy hour offering, live entertainment and DJs, plus an immersive 80s Bingo Bottomless Brunch.
Following the announcement of the group's flagship site, and world's largest tequila bar, in Covent Garden which is set to launch in early November, Barrio Familia has opened Watford's first Tequila bar this month.
Bringing the spirit of the Latin Quarter into Watford, the new venue will have space for up to 200 guests to enjoy a brand new, freshly crafted cocktail menu, delicious Mexican inspired food creations, including their signature tacos, and famous Latino party vibes.
The outside terrace is also being turned into Barrio's popular tropical yard, offering the perfect space for another 80 guests to gather with like-minded 'amigos' and sip cocktails, enjoy a meal and experience a fiesta like never before.
Barrio Familia was acquired by Nightcap in November 2021 and has since gone from strength to strength. New venues; Barrio Watford and Barrio Covent Garden will add to their growing portfolio of sites in Shoreditch, Soho, Angel, and Brixton. After opening the first Barrio site in 2007, the group's vision was to have a Barrio in every big party neighborhood in the UK and Watford will play a huge role in that exciting expansion.
Each of the Barrio Bars sites offer a full-colour, full-flavour experience, and of course, plenty of Tequila. The group plans to open seven days a week and be the perfect new spot in Watford for all occasions, from lunches and daytime drinks to brunches and late night partying.
Jim Robertson, Managing Director of Barrio Familia, commented:
"We are incredibly excited to be taking our Latino party outside of London for the first time. This is a fantastic venue and we can't wait to welcome the residents of Watford into the Barrio familia and bring the party! I believe Barrio will be a fantastic addition to Watford High Street that will suit all types of occasions and bring a feel good bar that welcomes everyone. We have some amazing things planned for Barrio Watford, so watch this space and get ready for the biggest fiesta in town!"
The Wellness Hub in Berkhamsted welcomes IV Boost therapy clinic
IV Boost – a renowned IV therapy clinic on London's Wimpole Street – has opened at The Wellness Hub in Berkhamsted.  Founded in 2005 by medical director Dr Joshua Berkowitz, IV Boost takes a holistic approach to health and wellness to help boost and restore the body's natural ability to be well, energised and able to resist ageing.
"We are delighted to welcome Dr Josh and the IV Boost to The Wellness Hub and are excited to be offering our customers these fantastic IV therapies," says Emma James, MD and owner The Wellness Hub on Lower Kings Street. "IV Boost prides itself on its medical skills and personalised approach which mirrors our commitment to offering bespoke wellbeing solutions. I have no doubt its services will prove popular in complementing and enhancing our existing range of therapies which include physiotherapy, massage, beauty therapy, sports massage, Pilates, personal training and yoga."
"We have been very impressed by The Wellness Hub and have been made most welcome here," says Dr Joshua Berkowitz.  "IV therapy is increasingly popular as a means to achieving optimum health and we have been looking for a new clinic outside London to meet the growing demand for our services.
"The Wellness Hub is the perfect site for IV Boost and we look forward to meeting its customers.  We recognise that IV therapy will be new to many people and clients can rest assured they will have a consultation before any therapy to ensure it suits their exact needs."
IV Vitamin Therapy
Intravenous (IV) Vitamin Therapy has been practised for many years, often to support conventional medical treatment of a wide range of health conditions. It is the fastest way to deliver nutrients throughout the body because it bypasses the digestive system and is 90-100% absorbed directly into the organs (compared to 20-50% absorption if taken orally).
Vitamin Shots
A vitamin shot is an intramuscular injection that treats various vitamin deficiencies. It is absorbed into your bloodstream via your muscles. Unlike vitamins taken orally, vitamin shots bypass the digestive system and result in a 90-100% absorption rate. Many people feel the effects within hours of the treatment which takes just a few minutes to administer.
Ozone Therapy
Medical grade ozone is a highly active and reactive form of oxygen which is prepared by a highly skilled practitioner just before being administered. Ozone therapy can restore optimum oxygen levels in the body by increasing the red blood cell count and this, in turn, stimulates the release of oxygen into the body's tissues.
Diagnostic Testing
Diagnostic testing gives a very clear picture of your health and can help pinpoint problems that may be missed through consultation or 'standard' blood tests offered by GPs. IV Boost uses a leading London laboratory which offers a very quick turnaround of precise, accurate results.
Aesthetic Treatments
IV Boost can deliver a range of non-surgical treatments to enhance the appearance and treat the visible signs of ageing. These rejuvenating treatments use the latest evidence-based products and cutting-edge technology to deliver safe, effective and long-lasting effects. Performed to the highest standard, each treatment plan is tailored to address individual concerns to optimise results.
About IV Boost
IV Boost is located in The Wellness Hub, 26 Lower kings road, Berkhamsted, Herts, HP4 2AE
Air Aesthetics & Wellness opens in Christopher Place St Albans
Air Aesthetics & Wellness is a brand new, state-of-the-art clinic in St Albans' Christopher Place that's just been launched by Dr Claire Oliver.  It promises to bring a touch of 'Harley Street to Hertfordshire' with its doctor-led, FDA-cleared treatments that not only help with skin health and rejuvenation from the inside out but also collagen banking and even guaranteed fat loss.  Air Aesthetics & Wellness strap-line is: "Still You, but on a really good day."
What does 'Still You, but on a really good day' mean?
Air Aesthetics & Wellness prides itself on its holistic, ethical, and natural results approach to aesthetics and wellness.  They strive for beauty and confidence from the inside out and help clients to be the best version of themselves through a 360-degree approach encompassing advanced clinical skincare and rejuvenation, clinical facials, beauty treatments, diet and nutrition, and – just as important – exercise. In short, it's their aim to turn back time, making you a fresher version of your best self.
The luxury clinic offers pioneering, FDA-approved aesthetic treatments that are not only doctor-led, but that deliver proven and safe results without the need for invasive surgery and downtime.  Alongside the treatments, there is a dedicated Wellness Clinic offering advice on nutrition, functional medicine, Menopause/HRT, and intimate female treatments associated with ageing.
Dr Oliver and her team have worked hard for over a decade in Henley in Arden and Birmingham and have won many major awards including 'Best Clinic – Midlands and Wales' in the 2021 Aesthetics Awards.  They are hopeful that St Albans will be equally well received.
Air Aesthetics is doctor-led.  What does that actually mean?
It means they can offer the best, advanced skin rejuvenation treatments available – and you can be safe in the knowledge that you are being treated by a highly trained doctor.  Dr Claire Oliver (pictured) is both Medical Director (GDC 70918), and founder, and still leads the clinic.  Claire has over 20 years' experience as an aesthetics practitioner and has dedicated her professional career to the study of skin health and ageing.  She remains passionate that healthy skin really is at the heart of looking good, feeling great and being confident in your own skin.
Dr Oliver is supported in St Albans by Dr Zartash Badar, as well as a team of highly skilled, medical aestheticians – three of whom have been employed from the local St Albans area.
What brings you to St Albans?
"I'm extremely excited about launching our clinic in St Albans.  We've invested over £750,000 in the clinic and will bring Harley Street standards to Hertfordshire.  Our mission, at Air, is to make it much easier for clients in St Albans to access doctor-led, 360-degree skin rejuvenation and fat loss solutions in a beautiful clinic environment – without the need to trek into central London," said Dr Oliver.
What has surprised you most about St Albans?
"We've been pleasantly surprised by the welcome we've already received in St Albans: from our neighbours in Christopher Place to residents dropping in, saying hello and stopping to speak. We are keen to partner or work collaboratively with local businesses to create interesting events enhancing the experience St Albans offers – so we'd welcome people to drop by and speak to us," added Dr Oliver.
How can people find out more about Air Aesthetics & Wellness or book a consultation?
Call 01727 221 773, email info@airaesthetics.co.uk or visit www.airaesthetics.co.uk