Four Fantastic Food Bloggers to follow: October 2020
The Home Counties is home to some of the finest places to eat in the UK. It is also home to some of the best up-and-coming food bloggers who are pushing food envy to new levels. 2020 has been a unique year and if there is one thing that we as a nation have done right this year, it would be appreciating good food.
We have handpicked four fabulous food bloggers who are worth following. From amazing recipes to insider knowledge of the finest places to dine, these foodies need to be on your feed.
1. What's your favourite place to eat?
This is so tricky it's unbelievable 😅.  If I wanted a takeaway sandwich, it would be @chillibs for their amazing grilled sandwiches. If I had to pick the most amazing fried chicken that looks like it should be in a fine dining restaurant the way it's served, it would be @chicken_george_jnr. For awesome pub food with roast dinners that are to die for, I would pick @thevichitchin and finally for something baked and naughty, @puddingstop. I'm addicted to there cinnamon buns and their raspberry and white chocolate blondies… oh and their cronuts.
2. Favourite meal/type of food?
This question is as old as time… pasta or pizza 🙈. I'm fully in love with pasta for the varieties of sauces and shapes etc… who doesn't love a big carb hug with handfuls of cheese and truffle shavings? 🤤 @oldskoolpantry do a proper spaghetti carbonara which is to die for with lots of Parmesan, chunky fresh black pepper and lots of bacon. I equally love a Pizza and it would have to be made by my mentor Adam from @peddlingpizzas who inspired me to start making my own pizzas.
3. Favourite drink?
My go-to in the morning is an Espresso. I do like other coffees too but have had less milky ones of late. @chianaturallyhealthy do an amazing turmeric coconut latte. I love a strong full-bodied red wine such as a Malbec or a Plavic Male from Croatia. Beer and cider is good but I'm a sucker for cocktails especially an Espresso Martini 👌🏼.
4. Most recent/ favourite recipe book bought?
My most recent cookbook was Simply Novelli by @jean_christophe_novelli which I got while I was at Jean Christophe Novelli cookery school.
5. Which food blogger would you recommend following?
@fat.Sam.eats is the king of food porn especially breakfast yolk porn. @artusbbq is a wizard with a bbq as you can imagine. @lickyplate for absolutely everything including good food-related puns.
1. What's your favourite place to eat?
Bedford is blessed with so many good restaurants that it's impossible to choose just one! FatCap Smokehouse is always top of my list, real-deal American bbq cooked low n slow to perfection! Bridges Espresso Bar are the new kids on the Bedford foodie scene and they're already a firm favourite of mine!
2. Favourite meal/type of food?
I haven't met a cuisine I don't like yet! Italian food is my favourite, especially my Nonna's cooking. When I go out to eat, I love street food markets as it means I don't have to choose one type of food and can eat everything!!
3. Favourite drink?
I'm most partial to a glass of bubbly but can't say no to a proper Mojito! For a non-alcoholic beverage, I always go for a Diet Coke.
4. Most recent/ favourite recipe book bought?
My favourite cookbook is practically a family heirloom! It is a copy of Mrs Beeton's Book of Household Management that belonged to my Great Nonna. She was given it when she first moved to England and it is over 100 years old. For a more contemporary cookbook, Ottolenghi is always a winner!
5. Which food blogger would you recommend following?
Make sure to check out my fellow Bedford foodie @teesfusiontable who makes the most amazing food.
1. What's your favourite place to eat?
One of my favourite places in St Albans has to be Tabure. The food is always great and the restaurant always has a good atmosphere. Love trying lots of dishes.
2. Favourite meal/type of food?
This is a hard one but I would say Italian food is my favourite. Though I love brunch food. This is something I make a lot of. Avocado on toast with poached eggs is always a good idea.
3. Favourite drink?
Espresso Martini or a G&T. Rhubarb and ginger gin is is my current favourite flavour.
4. Most recent/ favourite recipe book bought?
When I was last in Berlin I visited a restaurant called House of Small Wonder. Fusion cuisine offering Japanese and European dishes. I brought the Recipes & Stories cookbook and have enjoyed using it a lot.
5. Which food blogger would you recommend following?
So many food bloggers who have amazing content. I would recommend @eat.like.a.foodie who's home cooking is inspired by their travels.
1. What's your favourite place to eat?
We're spoilt for choice locally, there are so many gorgeous eateries. In St Albans, I particularly like L'italiano or Lussmanns. But we've also got the Alford Arms down the road which is reliably wonderful and if I want steak then I love Prime in Chandlers Cross. I'm not great at choosing just one.
2. Favourite meal/type of food?
Oh dear, I'm already spotting a theme. It's so tough to choose, I particularly love cooking whole foods from scratch & tend to borrow flavours from around the world depending on my mood. I love a charcuterie board especially at home in front of a fire. On balance I would probably pick Italian food if forced. But I adore Asian food and British obviously.
3. Favourite drink?
What I drink most is water. But if we're talking alcoholic I love anything with lychee or pear maybe a Bellini or a martini & I'm partial to a glass of Malbec. But probably my favourite is fresh mint tea.
4. Most recent/ favourite recipe book bought?
I've got so many but I don't really follow recipes, I've been cooking for over 30 years. I love The flavour thesaurus by Niki Segnit. For inspiration, I probably reach for one my Nigel Slaters or Claudia Roden.
5. Which food blogger would you recommend following?
@90foodie @thefierywhisk & @johnwmacdonald are all really good for inspiration & very friendly.
---
Four Fantastic Food Bloggers to Follow – September
Each and every month, we will be featuring four new food bloggers to follow. If you are a food blogger and would like to be featured. follow us on Instagram and drop us a DM. Read 'September's Four Fantastic Food Bloggers to Follow'.
---
Join the #lunchNbloggers movement
A brand new Bingo Brunch experience is coming to Watford's Barrio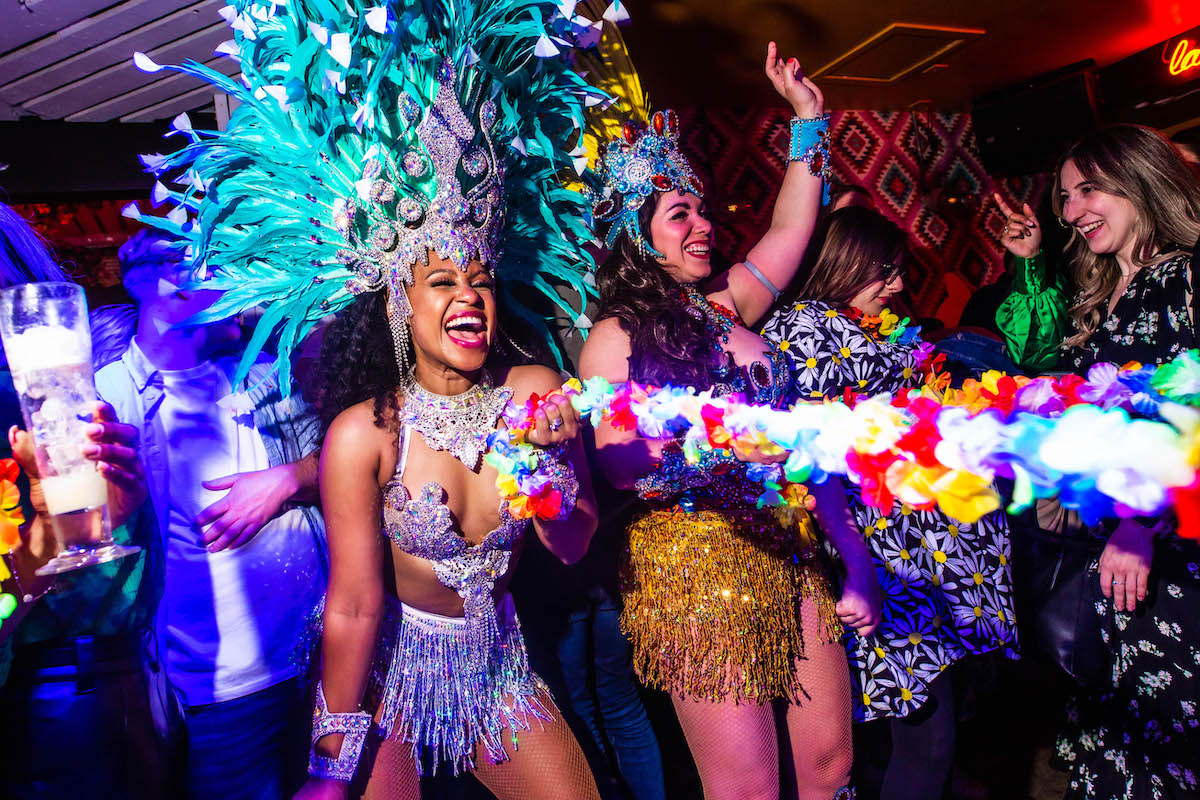 On 5th November, the newly opened Barrio venue will launch its bingo brunch concept, La Isla Bonita 80s Brunch, in Watford. Translating to 'The beautiful island', La Isla Bonita Brunch aims to recreate that perfect tropical holiday feeling, with food and cocktails galore, bingo mayhem and 80s music all afternoon-long.
Already a popular party experience at Barrio Shoreditch, the 80s themed musical brunch is scheduled to run every Saturday from 12pm, and will include a two-course brunch, welcome cocktail and a variety of bottomless drinks (prosecco, spiced rum sangria and Sol beer).
Once guests have finished tucking into a menu of delicious burgers, including Queso Libre as a vegetarian option and Saint and Sinner as the vegan burger plus Barrio Churros, the musical bingo commences, brought to life by a captivating host and nostalgic 80s tunes by Barrio's best DJs. Brunch goers can expect witty bingo calls, group singalongs and impromptu tableside performances. Prizes for winning the brunch also include a very tasty £100 bar tab.
For £35 per person, over-21s can enjoy 90 minutes of bottomless drinks and then eat, bingo and party until 5pm.
Those interested can book the first La Isla Bonita 80s Brunch at Barrio Watford for a special launch price of £25 (valid for 5th and 12th Nov brunch dates).
More about Barrio Watford
On 20th October 2022, Barrio Familia opened its first out-of-London venue in Watford, bringing Latin-inspired cocktails, authentic Mexican eats, a killer happy hour offering, live entertainment and DJs, plus an immersive 80s Bingo Bottomless Brunch.
Following the announcement of the group's flagship site, and world's largest tequila bar, in Covent Garden which is set to launch in early November, Barrio Familia has opened Watford's first Tequila bar this month.
Bringing the spirit of the Latin Quarter into Watford, the new venue will have space for up to 200 guests to enjoy a brand new, freshly crafted cocktail menu, delicious Mexican inspired food creations, including their signature tacos, and famous Latino party vibes.
The outside terrace is also being turned into Barrio's popular tropical yard, offering the perfect space for another 80 guests to gather with like-minded 'amigos' and sip cocktails, enjoy a meal and experience a fiesta like never before.
Barrio Familia was acquired by Nightcap in November 2021 and has since gone from strength to strength. New venues; Barrio Watford and Barrio Covent Garden will add to their growing portfolio of sites in Shoreditch, Soho, Angel, and Brixton. After opening the first Barrio site in 2007, the group's vision was to have a Barrio in every big party neighborhood in the UK and Watford will play a huge role in that exciting expansion.
Each of the Barrio Bars sites offer a full-colour, full-flavour experience, and of course, plenty of Tequila. The group plans to open seven days a week and be the perfect new spot in Watford for all occasions, from lunches and daytime drinks to brunches and late night partying.
Jim Robertson, Managing Director of Barrio Familia, commented:
"We are incredibly excited to be taking our Latino party outside of London for the first time. This is a fantastic venue and we can't wait to welcome the residents of Watford into the Barrio familia and bring the party! I believe Barrio will be a fantastic addition to Watford High Street that will suit all types of occasions and bring a feel good bar that welcomes everyone. We have some amazing things planned for Barrio Watford, so watch this space and get ready for the biggest fiesta in town!"
The Almere Milton Keynes launches Neighbourhood Hero initiative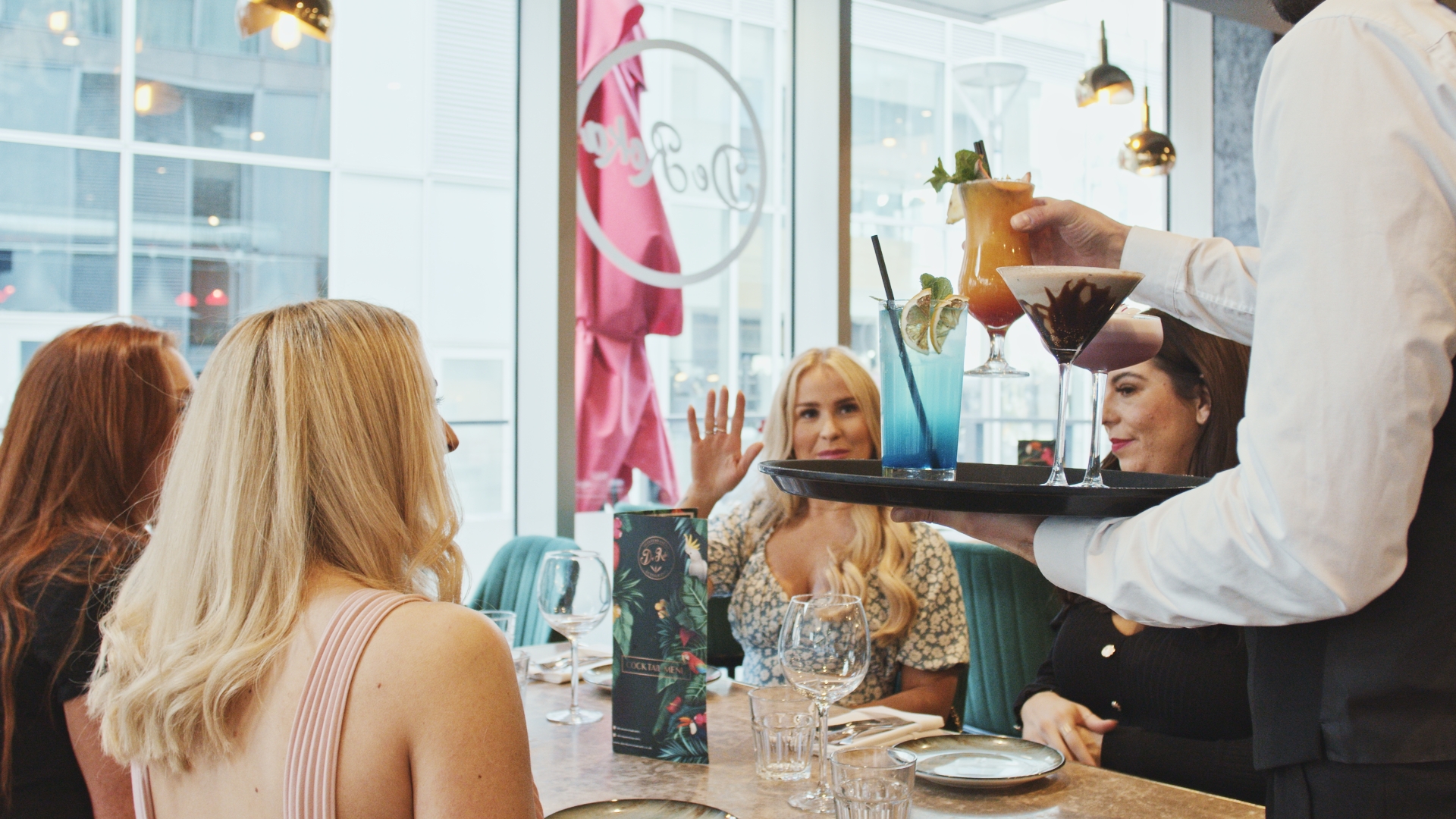 'All about the community', The Almere prides themselves on making living easy for their residents. With residents set to move this month, the exciting new community boasts co-working, communal and event spaces within the building.
The ground floor 'Gathering Place' is bookable to the local community and to residents, whilst upstairs on the 11th floor sits an amenity space for residents, where part will be for co-working, roof terraces to hang out, barbeques and yoga classes. Additionally, there will also be a fitted kitchen and dining area which can be closed off for a private dining experience.
The Almere Neighbourhood Hero initiative
With community at its heart, The Almere aims to build relationships and work collaboratively with local businesses to guide residents to the best spots and products in town. The Almere's new Neighbourhood Hero initiative has handpicked local, and predominantly independent businesses to connect residents with the true value of living in Milton Keynes, highlighting all that there is to offer.
With the recent COVID-19 pandemic having had such an impact on small, independent businesses it's key to get people back out there and supporting locally. The Neighbourhood Hero initiative is a fantastic example of this, helping businesses to thrive and regain their position within the economy. Current Heroes include Bogota Coffee Co; DeRoka; Fuuudgelife; Suds; Sweat Studios; Doorstep Cocktails; Mollys Pantry; Pup Club; Headonist Hair and Beauty; and Moxy Hotel.
Benefits of the Almere led scheme include:
Feature on The Almere website, with regular spotlights and tags on social media channels
Exposure to over 600+ residents, and the ability to send offers and deals to them, without incurring any marketing costs
Welcomed as a core part of the community, allowing the businesses to use the communal spaces to hold pop-up events for residents and the local community
Include collateral in the 'move in packs' for new residents, for free
Invited to all community events at The Almere, and work together on collaborative event activations
Community Manager, Holly Birmingham explains, "Community is so important to us at The Almere – it is all about  meaningful connections both within our own four walls and the wider neighbourhood. At The Almere, we aren't just a building,  we are a new community in the heart of Milton Keynes. We want to support the brilliant local businesses around us, create lasting relationships and of course, show our residents the best our town has to offer."
The new scheme offers an exciting experience for local businesses to work on an exclusive basis with the upcoming, Milton Keynes hotspot, offer discounts to residents and in turn help show the rest of the UK what Milton Keynes has to offer!
About The Almere
A pioneering new rental community for Milton Keynes, The Almere, is a collection of 294 rental apartments built across two buildings with neighbourhood and outstanding service experience at its core.
St Albans Comedy Extravaganza returns to Verulamium Park in July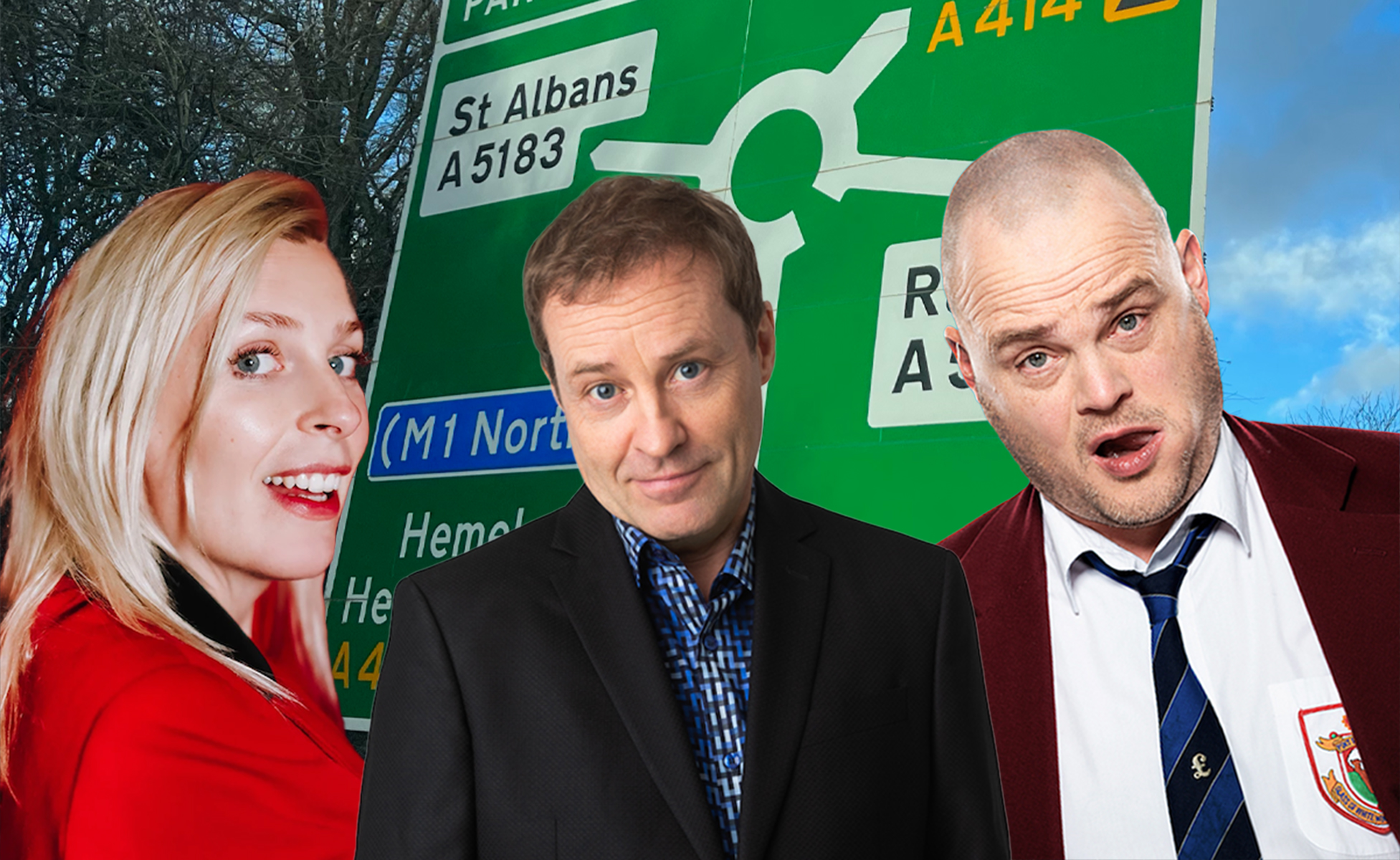 St Albans Comedy Garden presented by heycar is set to light up Verulamium Park this summer with a magnificent series of open-air shows from 27-31st July!
Starring legendary BAFTA and Perrier Award winner DYLAN MORAN, the guv'nor himself AL MURRAY, multi-award winning SARA PASCOE, the Last Leg's ROSIE JONES, Father Ted star ARDAL O'HANLON, lo-fi hero DAVID O'DOHERTY and many more huge names performing at this year's astounding set of open-air shows.
St Albans Comedy Garden line-up
Stand-up favourites are out in force too with cult poet / comic TIM KEY, German Comedy Ambassador HENNING WEHN, observational master ED BYRNE, Afterlife star KERRY GODLIMAN, Taskmaster champ LOU SANDERS, Edinburgh Comedy Award winner JOHN ROBINS, Netflix star JOEL DOMMETT, the inimitable REGINALD D HUNTER to name a few.
Alongside established names sit some of the brightest breakthrough talent such as the acclaimed CELYA AB, stand-up phenomenon FATIHA EL-GHORRI and the award-winning ESTHER MANITO, fast rising TADIWA MAHLUNGE all making their St Albans debut.
What to expect at St Albans Comedy Garden
Following last summer's huge sell-out first edition St Albans Comedy Garden returns with another astounding programme of stand-up comedy presented in a fully-seated open-air theatre in the Park's beautiful Water Meadow.
This year's comedy extravaganza will once again be brimful with bars serving up a tastemaker selection of craft beers, cocktails and more, plus an array of street-food stalls from the leading lights of the local street food scene.
Tickets are expected to fly as comedy-lovers from St Albans and beyond grab the chance to see these masterfully curated shows, each featuring a host of critically-acclaimed stars guaranteeing a hit of absolute entertainment in the heart of the summer.
The sibling team behind the Comedy Garden, Cass Randolph and Will Briggs of 57 Festivals, can't wait to return to St Albans. Cass said "We're thrilled with this year's line-up and to be back in Verulamium Park, we had such a great first year last summer, the audiences were an absolute riot, far livelier than we had expected! The acts really feed off that kind of energy and in turn give incredible performances."
Will added "We have some outstanding acts joining us this year, i'm especially looking forward to seeing Dylan Moran headline our opening night and can't wait to watch stand-out newcomers CELYA AB and FATIHA EL-GHORRI on the big stage."
This year's event is partnered with heycar, Chief Commercial Officer Karen Hilton said: "With this year's Comedy Garden returning to St Albans, it's shaping up to be an incredible, feel-good summer. We have so much laughter to catch up on after the last few years and I can't think of a better way to do it. The line-up is truly world-class, and we're particularly looking forward to seeing the incredible Joel Dommett in action. heycar is honoured to be sponsoring this incredible event and we can't wait to see everyone in St Albans this July!"
St Albans Comedy Garden tickets
Get your tickets now and be part of this year's magnificent St Albans Comedy Garden! Visit the website to find out more www.stalbanscomedygarden.co.uk